Available at Fontana Nissan and NissanRaceShop.com!
Replay XD High Def Action Sports Cameras!
Nagtroc Special --
$275.00 Shipped!
(Continental U.S. only)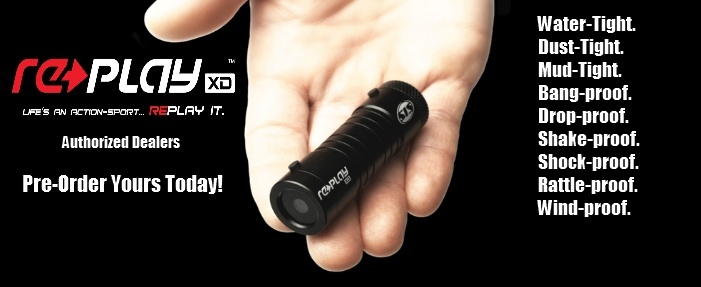 Small and Simple.
That's what the Replay XD1080 is all about. Starting with the small design of the Replay XD and a clean sheet of paper, we managed to put full HD into a small package.
Featuring a water-resistant, hard anodized, rugged aluminum housing for your extreme adventures. The Replay XD1080 is the smallest and lightest full HD action-camera on the market.
Simple, two-button ON/OFF and Start/Stop make the Replay XD1080 camera easy to operate. Simply turn it ON and Press Record to Start. The built-in LED & Vibration Feedback tell you that you're ready to go.
Rotate, Tilt, Swivel, Clip, Mount, Etc.
Replay XD1080 can be mounted practically anywhere due to its small form-factor and all-round shape. There are two mounts included with each system to get you recording in no-time.
HeimLock Mount (Swivel/Tilt):
Features spherical adjustment with an eccentric cam-lock for a rock solid mount. Over 1,036,800 Mounting Positions with 360º lens rotation, 360º camera rotation, and 8º of tilt, not including the unlimited areas you can mount 1 of 4 included SnapTray VHB bases.
Included are 2 Flat SnapTrays and 2 Curved SnapTrays with 3M® VHB adhesive to securely mount to smooth surfaces: metal, paint, powdercoat, LSE & HSE plastic. 3M® VHB adhesive ensures secure mounting and removal without harming your surface.
LowBoy Mount (Fixed):
Lowest profile mount, offers 360º lens rotation. Designed to be low and out-of-the-way. Compatible with our SnapTray VHB bases.
Live Action Via HDMI
Replay XD1080 is the first to stream full 1080P HD through the built-in HDMI out connector. You can record and stream your video simultaneously or just stream your video straight to an external HD recorder.
Compatible with: Live streaming via HDMI microwave, WiFi, 4G Transmitters & HDMI In HD Recording Decks.
Finely Tuned Optics
Replay XD1080 features class leading optics. Never before has an action-camera featured such a high quality lens. With its custom designed wide angle 135º, 6-element, f3.1 lens, and anti-glare coating this lens is finely-tuned to match the 5MP CMOS sensor for better clarity, accurate color, and minimal image distortion.
Replay XD1080 also features a removeable front lens bezel to accept our ProLens 37MM Adapter Lens & Filter Kit.
Many Modes. Easy to Use!
1080P@30fps, 960P@30fps, 720P@60fps, 720@30fps, Photo@1, 5, 10 & 15 sec, Internal Audio, External Audio, Rec, Stop, Play, Skip Forward, Skip Reverse, Clip File, Live Video Out. Wow.
That's a lot of modes. Don't worry we made it easy.
Set the Mode once and it sticks. There's no need to count button presses or reset your settings each time you use the Replay XD1080.
If you forgot what mode you were in or what they mean, just look inside the rear cover for a simple reminder.
Hot Rod Magazine Comparo:
These are in stock and ready to ship! Call today to place your orders...these will sell out FAST!!!
Scott VanderHeideFontana Nissan800-989-6173 x2253
Edited by Scott@FontanaNissan, 29 December 2011 - 10:33 AM.