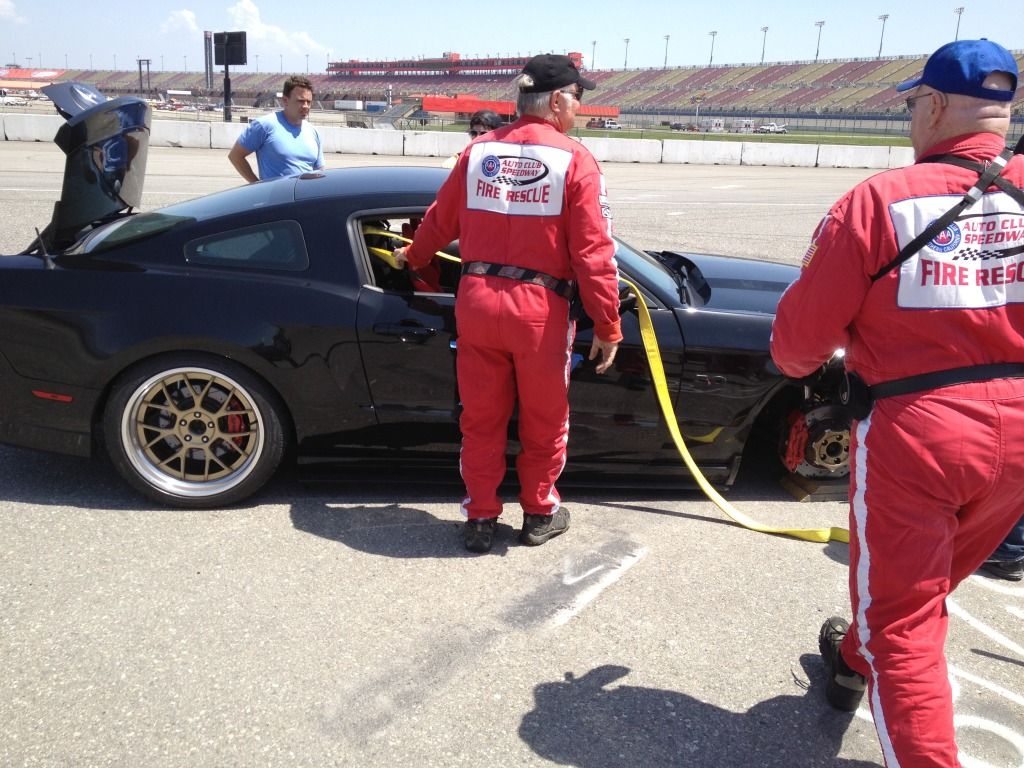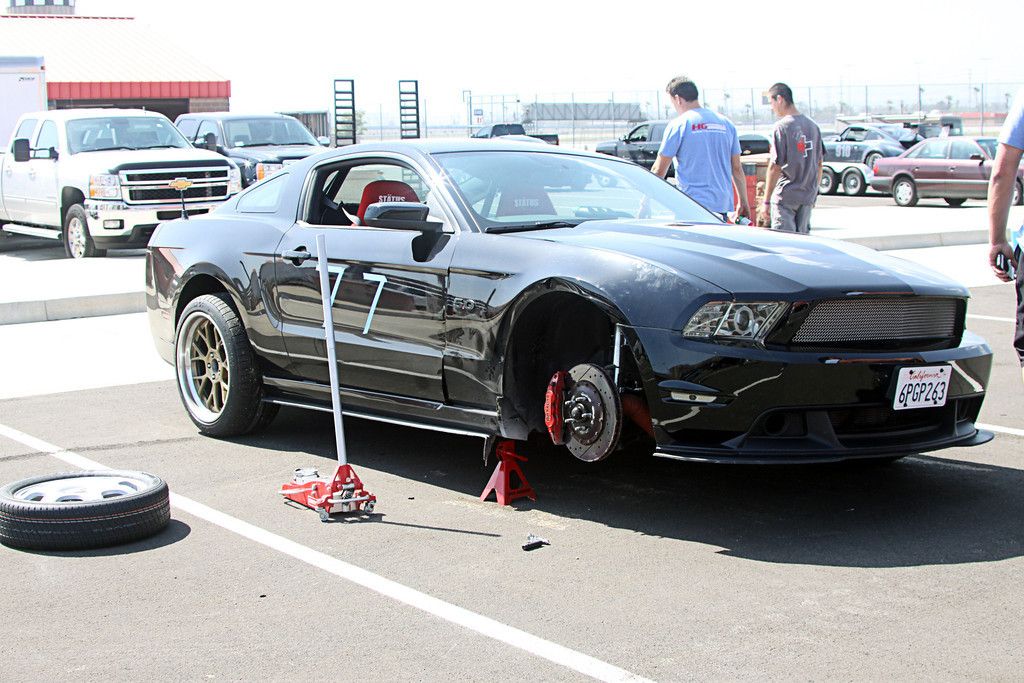 I attended a track day on May 6th 2012 at Auto Club Speedway with my good friends at HG Motorsports. This was just a track day and by no means, a competitive event. I had run a few sessions on the course and I decided have a go with an instructor in my passenger seat. When I came in to turn 16 of the "Sports Car" layout, instead of turning, the car proceeded to skid to the ground and I went straight off of the course. I looked in my rearview mirror and saw my wheel rolling out behind me. I knew that all of my wheels had been torqued properly, as the instructor did it himself. From the way that the car had ended up, I immediately had a feeling that the front passenger side wheel had broken. Sure enough, as you can see from the pictures, that was the case. Keep in my mind that I was also riding on a brand new set of Michelin Pilot Super Sport tires. Because the wheel had come off, the car rode the 14.25" inch disc of the AP Racing 6 piston front brake kit. In addition, the wheel and tire had bounced around in the front fender, inside the wheel well, causing severe body damage.
HG Motorsports was kind enough to put the car on their trailer that they brought their race car on and tow it back to San Diego, while they drove their race all the way back to San Diego. The car was brought to Heinz Geitz Autohaus, a sister company of HG Motorsports, where they were nice it enough to leave it on one of their lifts until we could get some new wheels on the car.
About the wheels: My father had purchased these wheels brand new from Peter at ACG back in March of 2011-- Cor Precise in 20"x9.5 in the front and 20"x10.5" in the rear with a brushed center and polished lips. A week before the event at Auto Club Speedway, I had the center of the wheels painted gold. They were not powder coated, nor were they disassembled. They were professionally prepared and painted by a well known shop that does wheel repair work and prepares race cars.
After the accident, photographs and word got around quickly. The very next day, Peter from ACG called to let me know that he had heard what had happened and that he had already been in contact with Cor. Cor wanted us to send the wheels back to them for testing to find out what could have cause the problem. After "analysis," Cor denied the responsibility and determined that the wheels would not be covered under warranty.
Our attorney sent a letter to Cor asking them to reimburse us for the wheels and pay for the damages to the car. Their reasoning for denying responsibility (see email) was that because the wheels had been painted and because I was at a track event, they were not under warranty and therefore Cor would not pay for the damages. Conveniently, Cor actually added the "track use" specification to their list of what denies warranty
after
we had brought this issue to their attention. Luckily, two days after the incident happened, I actually took a screenshot of their warranty page before the change. As you can see, the original page did not include the specification of "track use."
Cor states that they are denying warranty because the wheels were used on the "track" when they have conflicting information on their website that promotes the use of their wheels on "tracks", in "race" type functions, etc. I have posted photos of various instances where Cor uses these phrases throughout their website. I apologize in advance if some screenshots may be difficult to read.
For those of you who have a set of Cor wheels on your car, I suggest you have inspect them immediately. For those of you contemplating about purchasing a set of Cor wheels, I suggest you look elsewhere for a set of wheels.
This is the email the owner of Cor sent to our Attorney.
Mr. M****s,

We have received the wheels returned for warranty consideration. I have personally inspected the wheels and they conform to their design specification. The wheels were in fact repainted as your letter states and I am concerned about possible effects of the 3rd party paint process may have had on the wheels. Some processes have been known to adversely affect the aluminum material, which could lead to a failure of this kind. As mentioned, I will be having a sample of the failed wheel tested. In the meantime, I have had a chance to familiarize myself with the details surrounding this incident and I would like to point out that our products are designed for street use. The loads and the duration of the loads presented in a track environment are far greater than those experienced in day to day driving. I am sympathetic to your client's unfortunate experience but I feel it is unreasonable to expect our company to be held solely responsible for the damages when the product was clearly not being used in the manner for which it was intended. As your letter states and the photographs provided clearly indicate, the vehicle was at a race track and the client was at an "instructional driving event", not simply a car show. On this basis, we would have to deny the claim for warranty consideration.

If you would like to further discuss this matter, I would be more than happy to make myself available for a telephone conversation next week.

Kind regards,
Robert Herrera
This is Cor's warranty page two days after the event:
Here is Cor's current "updated" warranty page: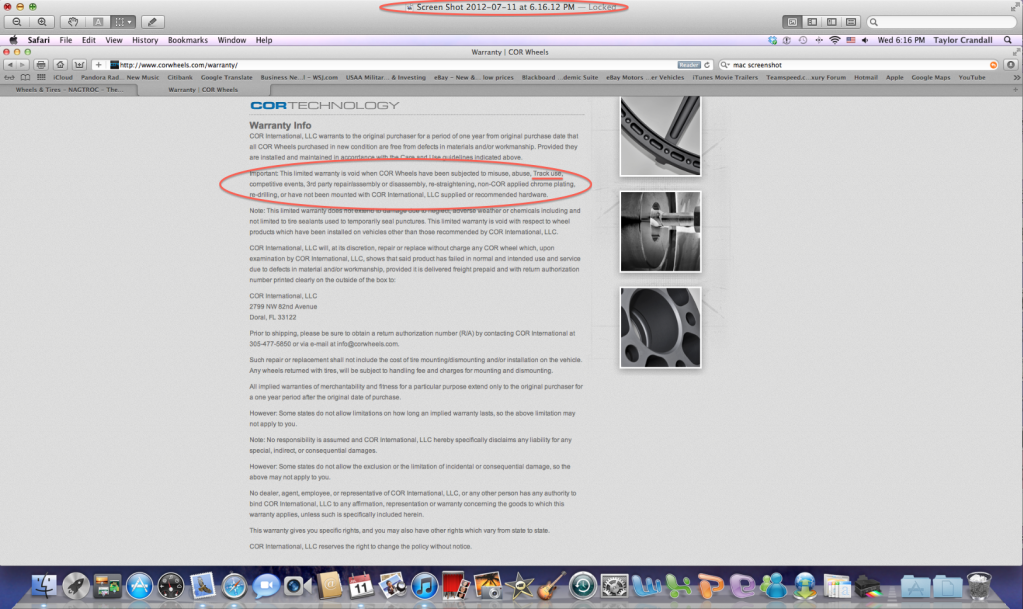 Here is a topic on Cor's blog in which they use a photo of our car, which they call a "Camaro," that Cor states that one can "gain unmatched performance on and off the
racetrack
" with their wheels: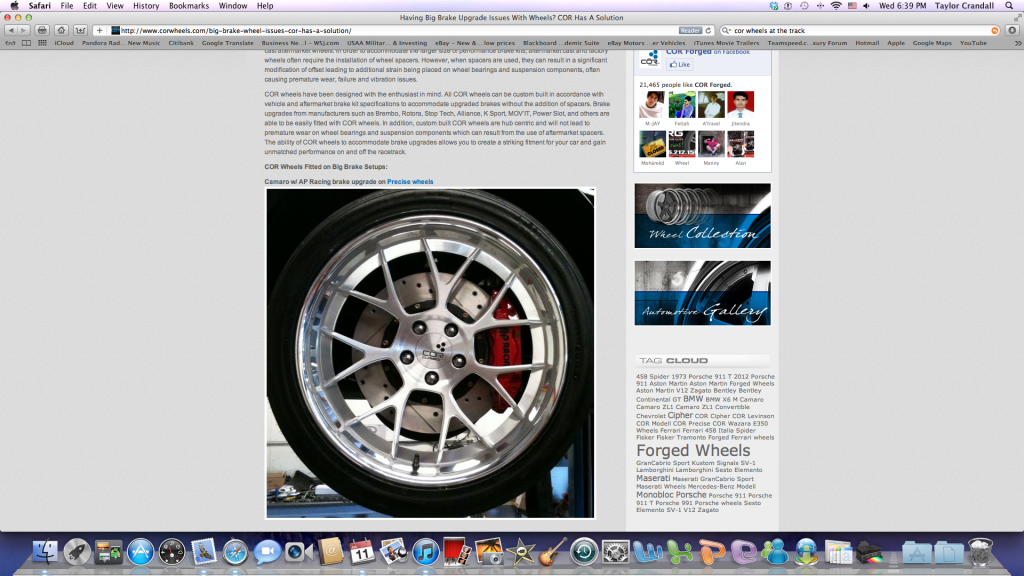 Here is another one of Cor's blog post with the use of the word "track":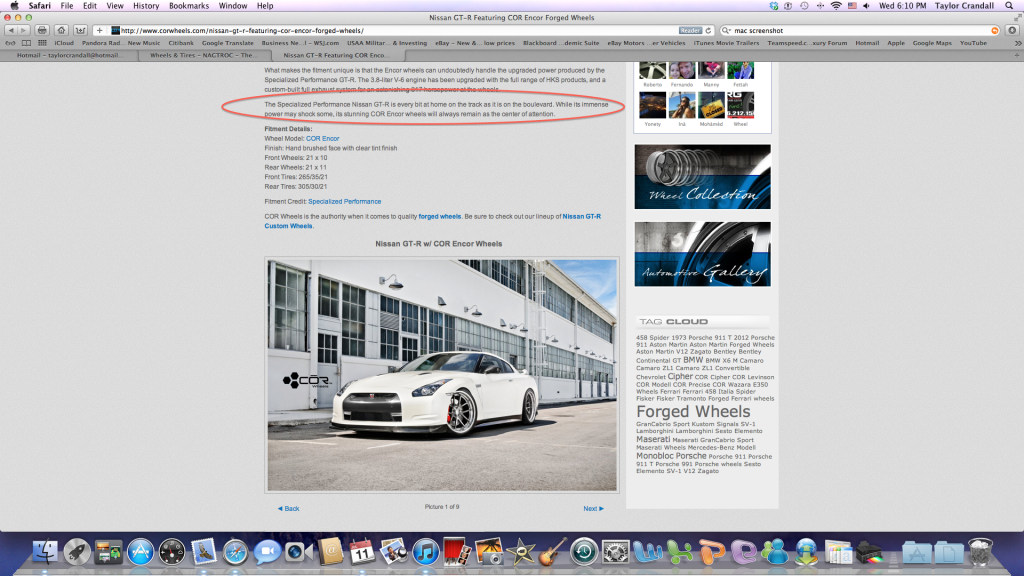 Here is Cor's About Us page in which they state that they make "competition" wheels: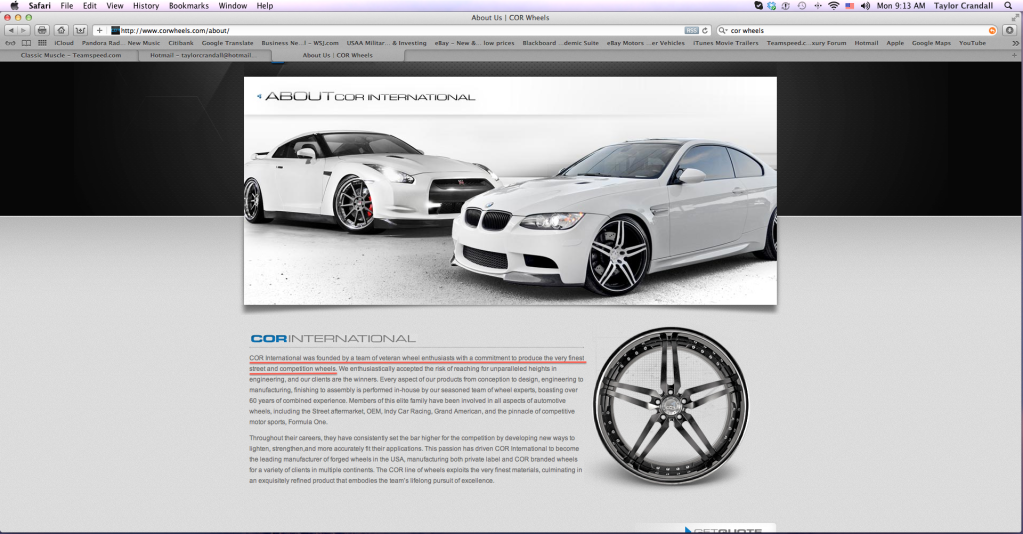 Edited by Tay, 22 October 2012 - 08:59 AM.