JUN R1 - now officially quickest R35 GTR in UK 8.3
Well am a little late in bringing the news but last week we took the JUN R1 to the Santa pod Jap show finale oct 11 to try improve on our previous 8.6 time.
The aim of the weekend was to try and get that clean run/pass , we knew the car was capable of serious times from day 1.
Normally i like to drive my car there and back to events (like last year) but on this occassion, we had customers SPEC V R35 that had just been built to 1000bhp and Ryan had to fit a syvecs and map the car for me -
So i met my team there on the saturday morning around 11am - car was already fueled up and slicks on ready to run.
We proceed to warm the car up and do the drivers sign on and wait in line till it was my turn to go down the strip.
1st run Saturday
- weather has not the best and a lot of headwing against us.
Car was on the line BOTL ready - boom the car feels savage as it takes off, i can feel the car fighting the grip all the way up the strip - the run felt very fast very fast, then as am making my way back to the pits - i can hear my phone ringing in my pocket but am strapped in with harness so ignore the phone and continue to the pits to await the news
.
I see ryan with a big smile and thumbs up :bowdown1:- is that the record on my first pass ?? then jeff ludgate comes over and says wow 8.4.:flame:
I then see aarin running with my time slip jumping around
[email protected]
New UK record and a record UK 60ft of 1.28 - wow am speechless but me and ryan knew the car had more left.
https://www.youtube.com/watch?v=lTPgJlKlZOU
So ryan looks at the logs said all is good and the car can go faster so he sets me on my way again
.
So off i go again before the rain comes down, am waiting on line can see the rain coming, this line needs to move quick..
Lets hope we make it just before the heavens open and am feeling confident.
2nd run -
I do my same procedure again but this time am more focused on keeping the foot fully down (those that drag race know what i mean)..
LC on and off we go - man this feels faster it has to be faster i said to myself going up the strip.. there is no phone call this time ?? :confused:
Maybe it was not as good but then i see most of the team running back 8.3 8.3 shouting thumbs up from randoms aswell - wow gobsmacked i am and we maintained a better 60ft this time 1.28. :runaway: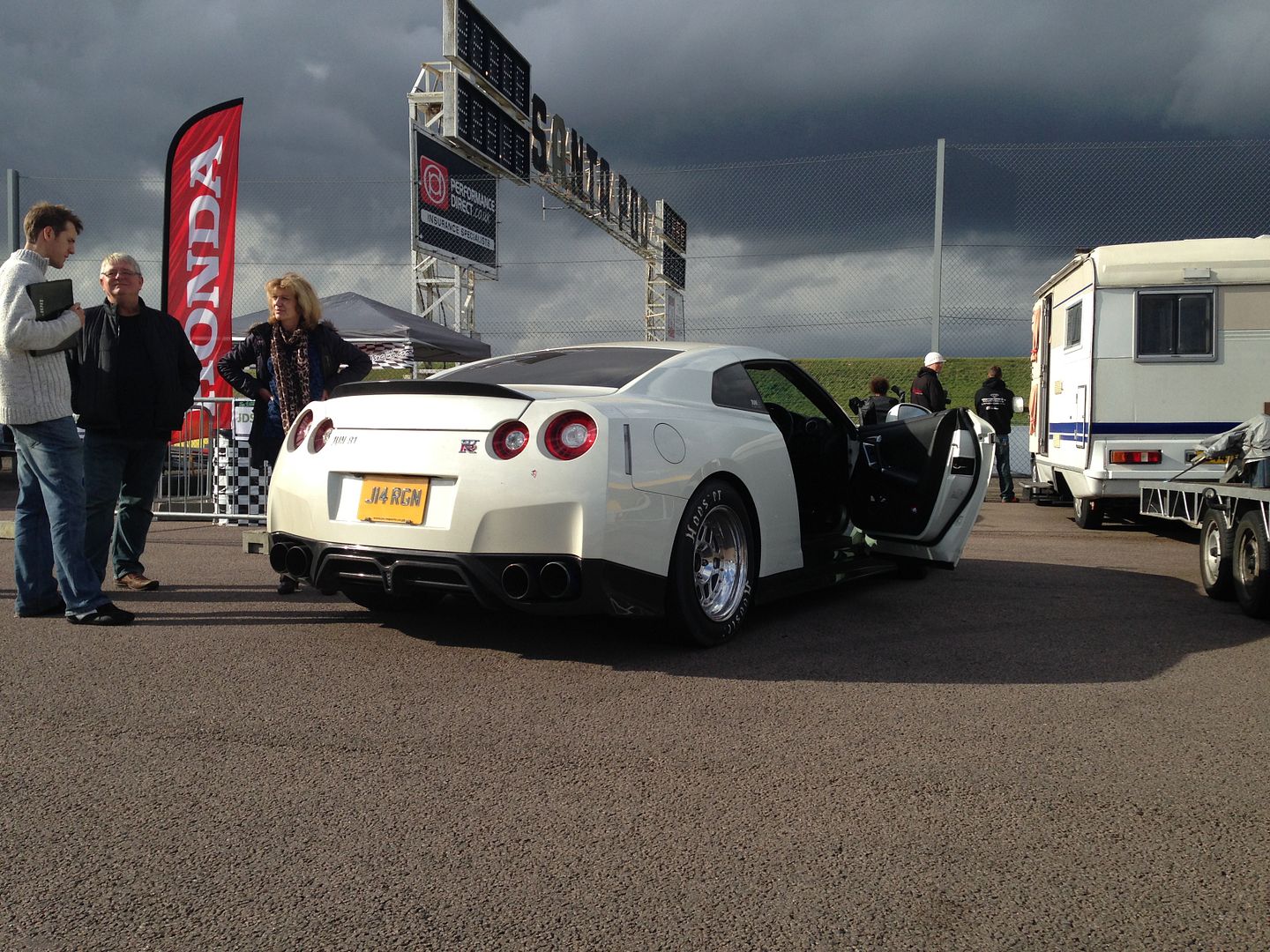 https://www.youtube.com/watch?v=96SE1i6TQ1g
https://www.youtube.com/watch?v=cQKash8yqg0
So thats the UK record done and the Uk 60ft record -backed up ( can we do the EU record 8.295 ?) well the heavens opened and we called it a day..
We then find out the car is the quickest GTR in the world on the 35R series turbos - wow my car is basically beating and keeping up with some of the big turbo cars in the world.
All this at full weight, infact 1842kg with me in the car - which is the most impressive thing and been very reliable - slipping clutches a few years back and a fuel pump failed at TOTB14.
Today was a good day..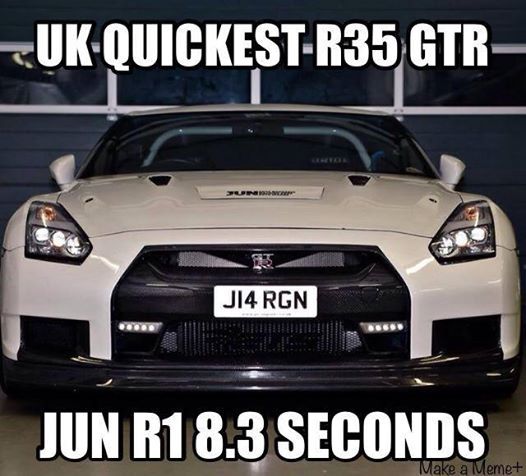 Sunday
With little bit hangover from night before and bit tired..
we arrive around 9.45am and it looks mega mega busy day - i sign on and start the car up - we let it warm up and wait around 1 hour to get a run :mad:..
My fuel is getting low and was not sure i had enough but i was at the front and the line was getting bigger so had to proceed - vs team khan GTR :cool:
So off i go feeling confident for run 1 - LC activated but as soon as it lifts of the line - FUEL surge cut activated ;( damm - big lesson learned this car is sucking this 25l E85 drum quick very quick - back to the pits.
So i rush back to the pits get the fuel out and fill up only had 1 drum left and i hurried to get another run before lunch time..
we just make it i think the last car or so to run before lunch -
run 2
Car hooks well and goes well
[email protected]
- 1.3 60ft impressive :chuckle:
https://www.youtube.com/watch?v=xP8glDjZ3_k
https://www.youtube.com/watch?v=DTdoYPMrc1w
https://www.youtube.com/watch?v=110Ex90HqDs
we have lunch and wait till after lunch i only have 2 more runs left to do..
Run 3
On the line and ready to go - i was not in the zone and did not fully activate the LC so car bogged and i aborted the run to save fuel for one last pass, time was running out and waiting lines were getting bigger :eek:
We waited and waited this time i did not keep car running - (wanted to make sure we had fuel) -
Run 4
Racing a lovely old skool - Skydat ...
Am in the zone and focused not going to spoil this run - both line up and put a great race for the show - car runs and impresive
[email protected]
with 1.42 60ft..
https://www.youtube.com/watch?v=kCLF8jGhFMg
https://www.youtube.com/watch?v=pucev8N62vM
https://www.youtube.com/watch?v=x8qmPcorHqQ
Thats the day done car ran well - mission accomplished a full weight street car with slicks doing these times is incredible..
I kept looking at my last slip
[email protected]
and 1.4 60ft -- man thats a possible 8.2 or 8.1. ;-)..
Special thanks
Want to thank a lot of people but cant thank them all personally -
JM team for helping me build this car and keeping it very reliable.
Ryan @ syvecs whos looked after the mapping of this car and gradually let the power out - MASSIVE THANKS mate.
JUN - for supplying this fantastic engine now touching near 10k miles
ETS - my turbo kit supplier from overseas.
PPG - for the gbox parts and support.
LITCHFIELD - For assembling my ppg gbox - its been superb from day 1.
All the other traders aswell along the journey :bowdown1:.
There is many many more to thank including this forum and its members, other traders and also along with all the JM customers we have GTR and none GTR based - it could not be achieved with out you and your support.
Also want to thank MRw for being technically part of the pit crew all weekend (we appreciated the help martyn)..
Some stats we have picked up from over the weekend -
@2.6 bar = 1500bhp Approx
Proven Data
(Based on recent 2014 Data)
0-60mph - 1.69 seconds
30-130mph- 3.83 seconds
60-130mph- 3.20 seconds
0-100mph - 2.95 seconds
0-130mph - 5.29 seconds
0-166mph - 8.38 seconds
0-180mph - 9.5 seconds
Top Speed 235++ MPH
QM time - [email protected]
Highest QM Terminal 166 mph
The future of the JUN R1 -
well rest assured i wont be removing weight or adding noz or bigger turbos car is very capable as proven now for street aswell as doing crazy QM times.
if we ever achieve that 8.2 or 8.1 it would be great but am in no hurry to try it.