Discussion Starter
·
#1
·
2007-2008 350Z Supercharger for Dual Throttle Body VQ35HR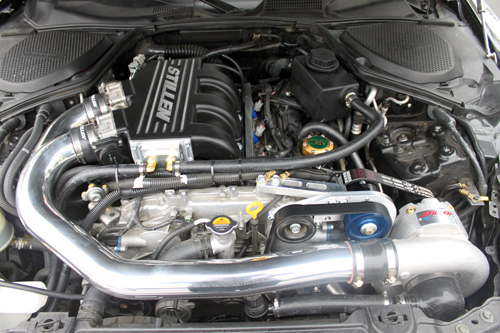 STILLEN is proud to announce the availability of the 2007-2008 350Z supercharger kit for the dual throttle body VQ35HR.
This supercharger system took over a year to develop and involves revolutionary designs to offer customers easy upgradability and installation. With this supercharger system, power is boosted to 450 horsepower (or 375whp).
Air to water intercooler: By redesigning the intake manifold we were able to incorporate the intercooler inside the manifold, thus allowing us to cool the air charge immediately before the air enters the engine. Additionally, the front mounted heat exchanger does not block the airflow supplying cool air to other vital coolers such as the radiator, engine oil cooler, transmission cooler, power steering cooler or the A/C condenser. Because water is 4 times more efficient at dissipating heat than air, we are able to utilize a more compact heat exchanger to cool the water.

http://blog.stillen....le-body-vq35hr/