Hey Guys and Girls,
Just wanted to officially post some graphs on the difference between the 2012 GTR and 2009 GTR's that we have dyno'd. We will also show some of the gains from modifying them.
The 2012 was brought to VEX 100% stock with apx 6000km on the car. Our Baseline is below
As estimated we see significant gains vs prior generations of GTR's. Also as estimated a simple boost increase from a 2011 creates similar gains.
We Then Installed AMS Downpipes and a COBB Midpipe with High-flow Cats. This customer retained his OEM Axle-back exhaust (Sorry for the poor quality pictures!)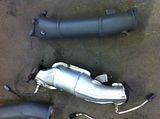 At the time our customer purchased his Accessport he wasn't aware that VEX Did tuning in-house and went for a custom e-tune from the USA. This custom tune runs a peak of about 20.4psi of boost, which is significantly higher then we would normally run on pump gas.
We have compaired the results from this e-tuned 2012 GTR to our in-house tuned 09 GTR. The cars are similar in modifications, but the 09 GTR retains OEM Downpipes, but additionally has COBB Intake's and a Stillen Down-pipe back exhaust. Both cars tuned on Husky 94. You will notice gains on the 2012 below 3500rpm from the downpipes. They help the turbo spool that much faster! You will also notice that our midrange and overal numbers are VERY similar but the in house tuned GTR is running significantly less boost.
2012 E-Tune is running a peak of about 20.4psi, where as our 2009 GTR is only running about 18psi peak boost. At our altitude the gains are negligable, but overall stress and heat would be increased running higher boost then needed.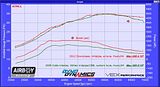 In conclusion there is still great gains to be had, at our altidude in Calgary with a 2012 GTR. With a full exhaust and a great tune the magical 500whp could be obtainable! Also those with older generation GTR's are only a good tune, and possibly an exhaust away from the same power to the wheels!