Discussion Starter
·
#1
·
So a fellow GTR owner showed me his aftermarket rear view mirror. It was something I never thought of and it looked a bit strange at first but then it made sense! It definitely increases rear view visibility, especially with the rear pillar on the car (I think it's called the C pillar?) and from what I saw, should help eliminate/reduce blind spots.
It has been my experience that in slow-ish speed traffic that I am not as comfortable switching lanes/merging and moving in that empty spot as quickly and safely as I normally am in my other car. So in an attempt to reduce that hesitation when driving and ultimately decrease the chance of any mishaps, I began reading up on rear view & side view mirrors. I usually wouldn't even bother with this sort of stuff, but this car changes you!
I have read on this forum about the adjustment of side view mirrors, it was a post by the user Kumaik;
"I learned a very useful method for eliminating blind spots at the Forged Performance VIR Track day last year. During one of the classes the instructor explained that if you move your head all the way to the left so that your temple is almost touching the window and you adjust the left side view mirror so you only see a hint of the left rear quarter panel and then you crank your head all the way to the right (ear almost on shoulder) and adjust the right mirror so you only see a hint of the right rear fender and adjust the rear view mirror to look directly out the back of the car. When you do this as cars leave the rear view mirror, depending on what side of the car they're approaching from you'll see the car appear in the side view mirror and when they leave the side view mirror the car will appear in the corner of your eye. Takes some getting used to but eliminates blind spots.
Hope this helps.
"
However I was flipping through the Hyper Rev Magazine and came across the brand Zoom Engineering and their rear view mirrors. Damn carbon fiber, like a moth to a flame! I was just wondering if anyone had experience with these or any similar style rear view mirrors that give better visibility than oem and look good!
Also I saw those MCR side mirrors on rthammar's epic thread;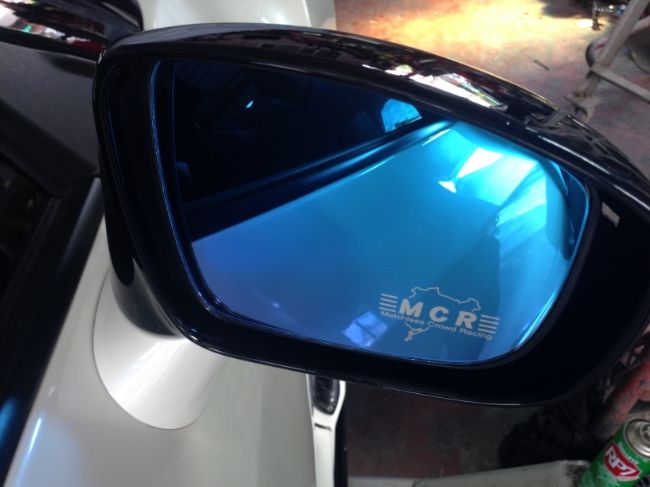 & was wondering if anyone else has experience with them or any similar side mirrors?
Thanks!