I pulled both the driver and passenger side, here's some info with pics !
Passenger side was very easy, I took the power steering pump of the bracket to get to the top bolts. I was able to get to the top bolt with a deep well 3/8 drive 12mm.
For the bottom I had to use a 1/4 driver with a 12mm socket, the 3/8 just was to big preventing the socket to be lined up right.
I used 6pt sockets to prevent rounding the heads.
This was also handy in putting back the car together: Craftsman 10 pc. Magnetic Socket Inserts, the kept the studs from falling out when installing the new pipes.
http://www.sears.com...=2&blockType=G2
Tools:
3/8 drive 12mm socket (6 point)
1/4 driver 12mm socket (6 point)
3/8 and 1/4 Flex Head Rachets
Long straight and 45 deg needle nose pliers.
Thread lock compound for the inlet studs/nut:
http://www.jpcycles.com/product/900-296?utm_source=PLAs&utm_medium=cpc&utm_term=&device=c&network=g&matchtype=&gclid=CIDy-q_Wp7YCFQ_pnAodvR4AXw
Note: Prior to removing the inlets, the upper intercooler piping was completely removed for easier access to the inlets. If you have questions on this step please PM me.
Before pump removed:
Here you can see the PS pump unbolted and moved to the side:
Here's a pic with inlet pipe removed:
Ok, time for the driver side inlet pipe removal.
This was a little more challenging than the passenger.
1st thing I noticed was the coolant overflow was right in the way, so I unbolted it and moved it over with all the hoses still connected.
Unbolting the top nut was pretty easy, I slid a conbination of 12" and a 3" extension between the block on the AC Compressor lines.
Couple turns and it was out, now for the bottom, well this was a bit more difficult. I tried gettign to it from the engine bay with a series of different extensions and swivels etc and nothing worked.
I stated taking out the underpanels of the car, hoping to see an access point to get a socket in there. After removing under panel, through the fender well I noticed the bottom bolt.
From here I took the same extension used above and a short 6pt socket with a swivel and it was out in minutes.
Next I disconnected the vacuum line connected to the compressor housing, accessing from the fender well and then the vacuum line connected to the wastegate groing from the boost solenoid.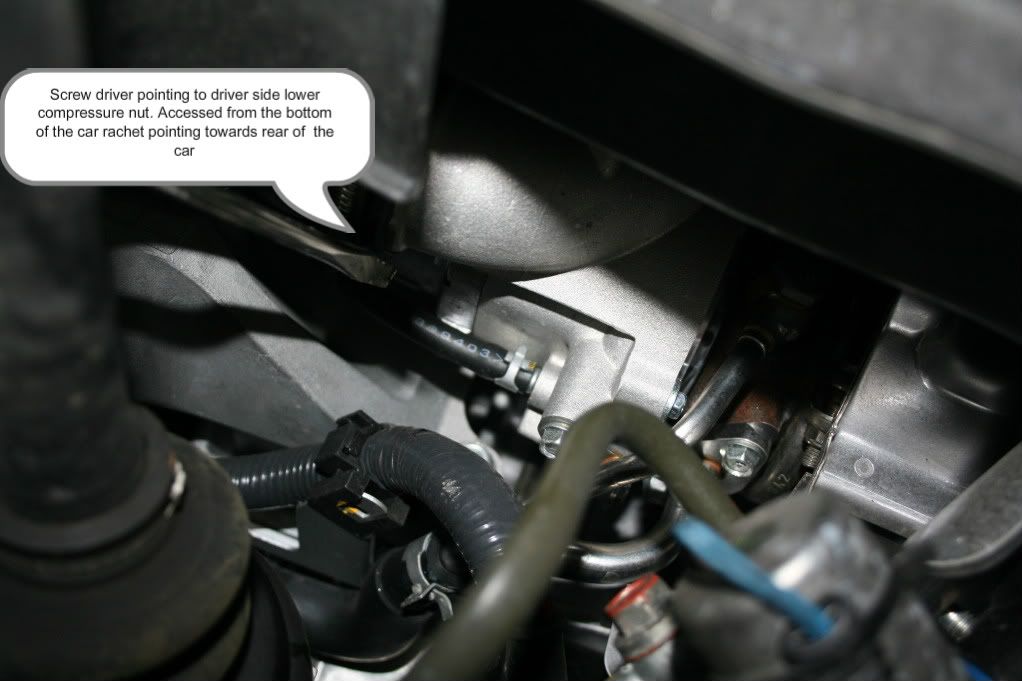 I pulled up on the inlet pipe and disconnected the haness on the solenoid and pulled the inlet assembly out of the car.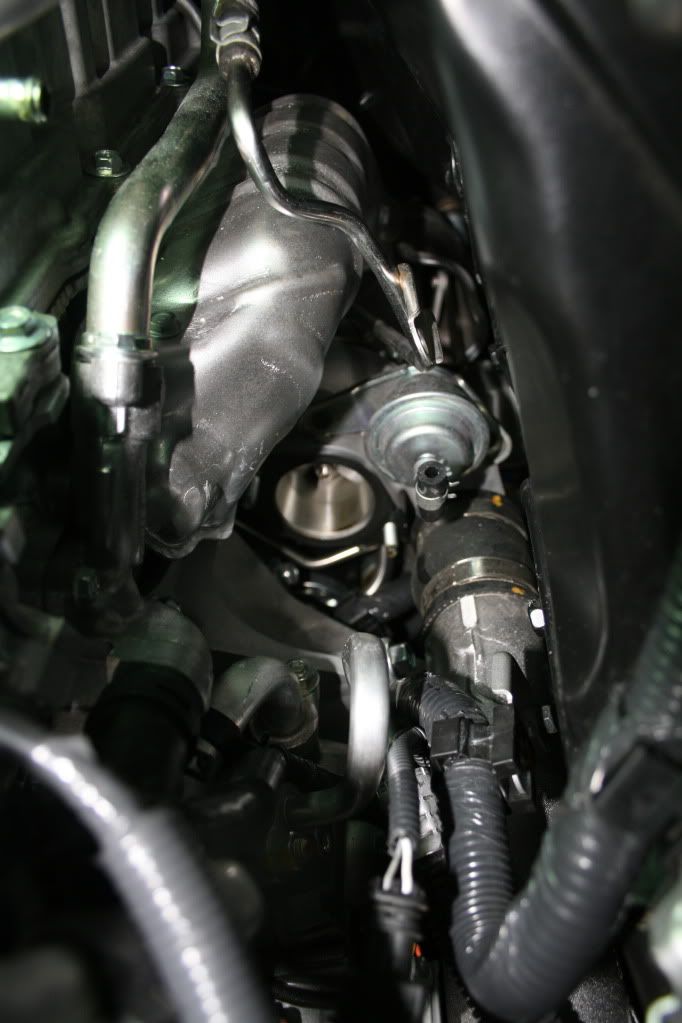 ipb.global.registerReputation( 'rep_post_821870', { domLikeStripId: 'like_post_821870', app: 'forums', type: 'pid', typeid: '821870' }, parseInt('') );