Discussion Starter
·
#1
·
Hi Everyone!
This will serve as an intro and a mini-journal of my GT-R ownership. I signed up a while ago for occasional miscellaneous reference, such as wheel specs and general R35 information. My first sports car was a 40th Anniversary 370Z that I purchased in March 2010. I always wanted a Z and I finally got one. A few of my friends bugged me about going through a mid-life crisis...though I wasn't. LOL! Well, another car that I always wanted was a Skyline GT-R. As I'm sure many of you were ecstatic when Nissan announced that they were going to make the R35 available everywhere, I too rejoiced at the possible chance of one day owning my own Godzilla. Well, after years of dreaming and convicing my wife, that day finally arrived. I just picked up my jet black 2012 GT-R Black Edition on Feb 2, 2012. Yes, I'm about to turn 40 in March (and so is my wife), and no I'm not going through a mid-life crisis, but I'm going to use that excuse to justify the purchase anyway, LOL!
Here are a few initial pictures I took over the last couple of days.
Thursday night, taking delivery at Sherwood Nissan in Sherwood Park, Alberta.
The first thing I did was apply Con-Tact clear shelf paper to the front end and mirrors to minimize the chance of getting a rock chip prior to getting a 3M clear bra put on the next day. I was googling to find a Canadian distributer for Road Wrap, hoping to get it express shipped so that I can use it on delivery for the drive home and then for the drive to the tint installer. In my search, I came across a few references about Road Wrap causing some damage to clear coat and/or leaving small patches of adhesive residue to clean up. One source on a Corvette forum said that they had been using Con-Tact shelf paper for 6 years for autocross and track events with no adverse results on his car. I found out that Home Depot was selling 9' x 18" rolls of this stuff for $5 each. I ended up using two rolls to cover the majority of the front end...I know, not pretty but it did the job. It handled highway speeds without flying off. It does turn brittle when cold (close to freezing) but once warmed up it removed easily without any residue. Here's what it looked like when I left the dealership.
Here are some pics taken yesterday while coming home after the 3M clear bra and tint were applied. European Auto Tinting did a fabulous job!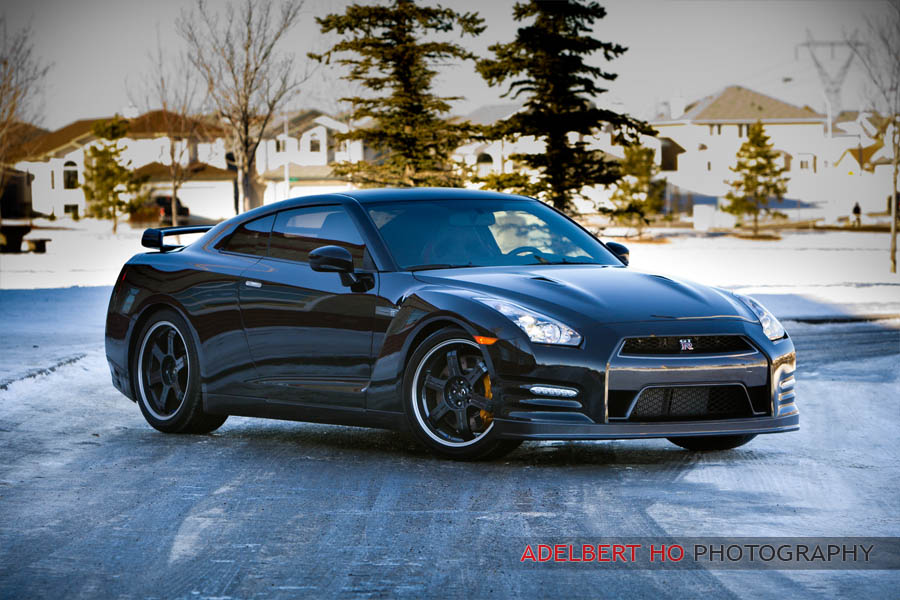 BTW, a few buddies have asked me "how the heck were you able to get your wife to agree to this?!?" In case some of you are looking for a GT-R and haven't gotten one because of the same speed bumps I had to face, I thought I'd share the following, as my way to help you and contribute to this forum. LOL!
My trick for procuring a GT-R. Follow these instructions:
1. talk about the GT-R...ALL THE TIME.
2. buy the wife something nice (e.g. Subaru STi)
3. talk some more about the GT-R...ALL THE TIME.
4. teach your very young kids to recognize the car by sight, and be able to call it by its name.
5. get your kids to talk about the GT-R...ALL THE TIME.
6. while her ears are still ringing, arrange to bring her to the dealership for a test drive. Let her drive.
7. she falls in love...sold.
8. re-apply the above until desired results achieved. This method is not exclusive to GT-R, but may be applicable to any car you desire.
9. the above is applicable to married men only. Single men in a relationship please start at step #1, skip steps 2-8 and proceed straight to #10.
10. Just buy the car and enjoy!