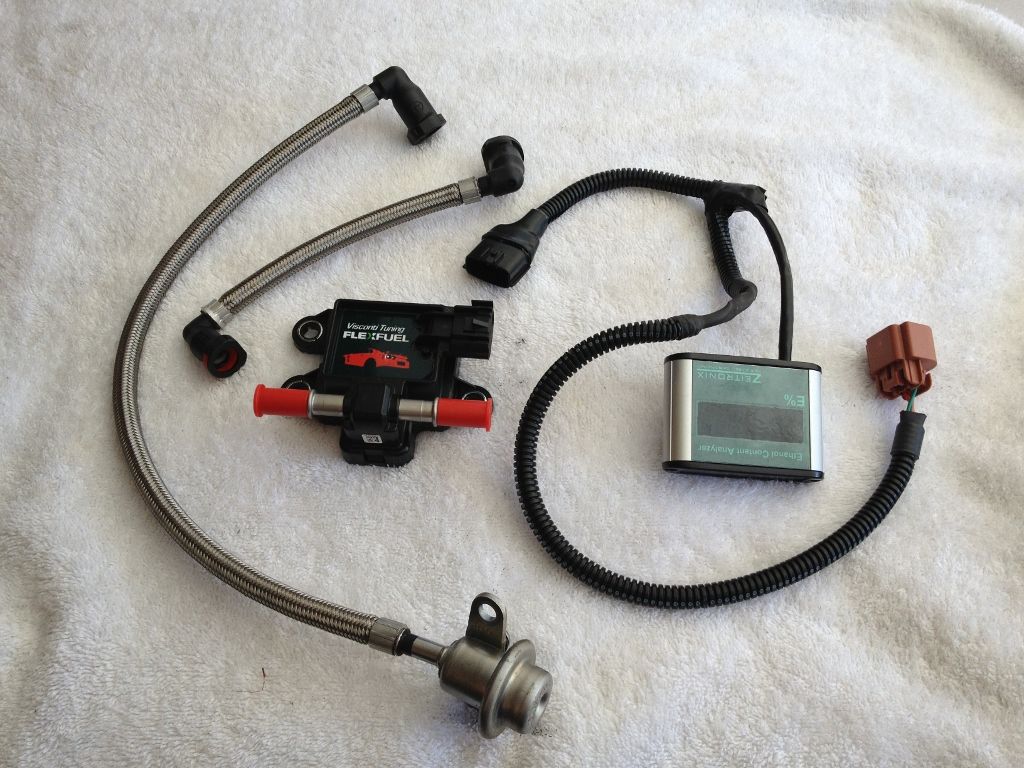 The days of test tubes and science projects at the gas station are over !
After extensive testing I'm so very proud to announce the very first plug & play Flex Fuel Kit for the R35 GTR.
With EcuTek Phase 3 software and Visconti Tuning custom maps I'm able to provide a calibration for all ethanol conditions.
What does Visconti Tuning's Custom Flex Fuel Tuning & this kit do?
1. Change Cold Start Cranking Compensation based on ethanol content
2. Change Maximum Target Boost based on ethanol content.
3. Change Ignition timing based on ethanol content
4. Change target A/F based on ethanol content
5. Change Cam Timing based on ethanol content
6. Change Fuel Economy Gauge reading based on ethanol content.
It's easy enough for most to install themselves, and is really 'Plug & Play'.
The kit utilizes a Zeitronix Ethanol Content Analyzer and super slim GM Ethanol Content Sensor.
The Ethanol Content sensor mounts on the firewall and is connected to your fuel system by two stainless PTFE fuel lines.
The Fuel dampener easily accessible and attached to the back of your fuel rail by two 10mm bolts will need to be swapped out for the one that's included in this kit.
Everything plugs directly into the secondary air pump plug which is located next to the battery.
This kit is $1050 shipped in the USA and has a refundable $100 core charge for the fuel dampener.
(After $100 refund total cost is $950)
Currently only EcuTek has written the custom code that is needed to utilize the signal from the ethanol content sensor, anyone with Cobb or UpRev will need to make the switch to EcuTek use this kit. Hopefully Cobb will support the custom code it takes to run this kit !!
EcuTek with TCM support is required - $1295
Flex Fuel Tunes for stock turbo cars are $850
Any existing Visconti Tuning customers with Cobb or EcuTek that have both a pump gas & e85 tune will only pay $350 for the flex fuel tune.
Anyone that has a larger than stock turbos or currently has a Zeitronix ECA & Ethanol Content sensor please PM me for pricing.
For ease of install the ethanol content gauge is kept in the engine bay in the battery compartment.
I'm in the process of building kits and will be ready to start shipping in two weeks.
This is first come first serve.
Please let me know if you have any questions.
When ordering please let me know what color gauge you'd like for your gauge, remember most will keep it in the engine bay so won't matter much.
1.
Pizza
2.
MR Performance
4.
Chris @ SPD
5.
Steve
6.
ma280 (blue)
7.
Acuteperformance (red)
8. blkonblk88 (red)
9. m3sparky (red)
10 Necrotic brain (red)
11. Phlegmon (red)
12. ebizzle361 (red)
13. SLUT (red) .
14. GZCINC (blue)
15. Nike21763 (red)
16. Doug3226 (RED)