In the words of Sharif:
It's hard to believe this is my 4th trip to Dubai in as many months but with the glut of high performance GT-R's in need of specialized tuning and troubleshooting in the UAE, things have been busier than ever. None of this would be possible, without having the trust and faith in the 16 fine individuals that make up Forged Performance that continue running general operations while I am away. Seemingly things run even smoother when I gone…haha!
Tam Auto Engineering and Hally Auto are the epicenter of many of the higher powered GT-R's and track oriented cars in the UAE and Tam's General Manager, Motaz, has been staying very busy and is always a gracious host whenever I am in town. He and his staff work through all hours of the night, literally, to make sure his clients are taken care of and we maximize my time here. Hally Auto Dubai is the exclusive distributor of all HKS products in the UAE, and Singh is a wonderfully helpful individual that help amass many of the parts we've installed in these GT-R's.
Tuning in Dubai presents a number of unique challenges not the least of which is the extreme heat and humidity. Add to this that most "races" in Dubai consists of 2nd through 6th gear pulls to the rev limiter or top speed, whichever occurs first. It's not uncommon to see impromptu races that reach 200mph as the drivers hammer through all 6 gears. So my tuning strategy must also take this into account. A 1000whp GT-R can see a 160mph-170mph 1/4 mile trap speed in contrast to the 200mph+ speeds we might see in Dubai with the engine injesting ambient air in the 120F-130F range.
On my previous trip to Dubai, we were held back by fuel pressure issues related to the type of lines used in the fuel system. AMS was quick to act, and provided us with the proper fuel upgrades just in time. Tam and his team customized and adapted the rest of the fuel system with uprated lines and secure fittings. With the fuel system completed, this trip would hopefully allow me to complete several big powered GT-R tunes with stable fuel pressure so critical at this power levels.
First car on the agenda was Ali's. This has to be one of the top GT-R's on the planet. The mod list is never ending and I could consume many pages simply enumerating the mods performed. Here are the basics just on the drivetrain side.
Greddy 4.0L Shortblock
Head Games Cylinder Heads with Ferrea oversized values and hardware
Jun Intake Ported TB
Greddy XL Intercooler
HKS 272 Cams…then switched to Kelford custom grind (much better)
ID2000 Injectors
AMS Fuel System with twin in tank Bosche 004's
AMS/Dallas Performance Spec Alpha 10 Turbo Kit
Dodson 1st Gear Upgrade
Dodson Pro Max Cutch
Dodson supporting parts
Dodson FWD Clutches and Shaft
OSG Rear Differential/HKS Kansai Front Diff
Forged Performance One Mile calibration
VP C16 Race Fuel
Dyno Dynamics Dyno
TE37 Super Lap's with Mickey Thompson ET Street's
After the first partial dyno pull, it was clear we had the fuel system issue completely solved. Rock stable pressure that rose and maintained 1:1 with boost pressure. A look of relief quickly appeared on everyone's face as we knew some big numbers could be achieved.
Using Cobb Tuning's Speed Density based calibration strategy, it's remarkable that I can make a big turbo, and cammed GT-R with enormous 2200cc ID Injectors, start, run, and idle just like stock. Cobb's tuning software is a dream for the professional engine calibrator and gives me real-time control over all key engine parameters I need to craft a perfect tune. Because I already had previous break-in and tuning time on this GT-R from the last trip, it didn't take long to see 780whp on pump gas, followed shortly by 1022whp on C16 Race Fuel.
Ali and Khalifa studied the dyno chart closely and were all smiles! Ali in particular hates having his picture taken, but I was able to creep up and snap this while he wasn't looking.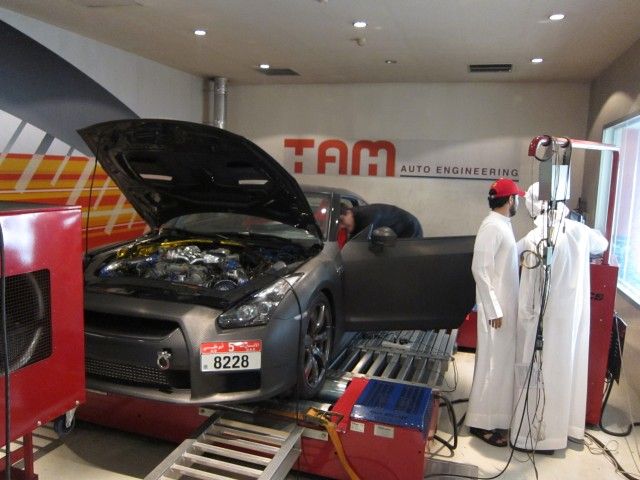 The big question is how does it drive on the street? Words simply cannot describe what a 1000whp+ and lightened R35 GT-R with proper tires and a smooth open road feels like. The public roads in Dubai are as smooth as a Formula 1 track; not one crack or deformation in the pavement to be seen. Couple that with warm evening weather, still warm asphalt and tires and this monster can actually hook up fairly well from a roll. The surge of acceleration is violent, yet stable not unlike a nuclear reactor. Endless power and acceleration all the way to the 7900rpm rev limiter I prescribed. On my next visit, I will bring a V-Box, and several cameras so we can quantify just how fast this GT-R is.
And even more important than the power produced, is the fine people that I've come to call my friends. Motaz, Ali, Singh, Khalifa, Joker, and all the others extended hospitality that would befit a king. This is the culture of the Middle East, where guests are treated like family..even better than family! Always smiling, and happy to help us achieve our goals. And in the end, we have some very happy clients nearly 8000 miles away from Forged Performance. Thank you and see you all soon!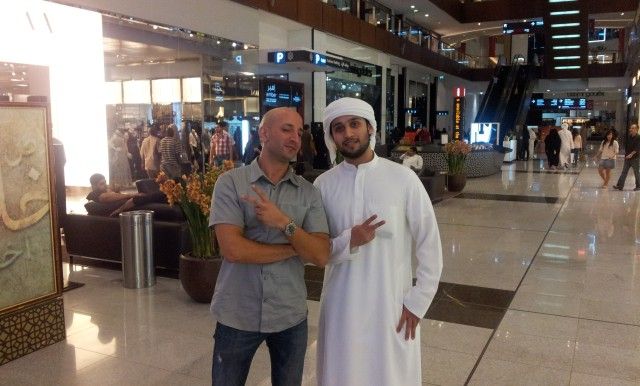 [email protected]
For more photos of this monster GT-R check out the feature on Speedhunters Blog:
http://speedhunters.com/archive/2011/08/30/builds-gt-gt-1022hp-r35-gt-r.aspx