Here at
Motion Lab
we have an affinity for high quality parts. We find that using the right parts the first time saves everyone hassle, money, and frustration down the road. Project MU specializes in high performance brake upgrades for Japanese and European cars. They have everything you need from 4 and 6 piston big brake kits, Teflon lines, and wide variety of street and race pads, and even cool accessories like their brake master cylinder reservoir tank cover or tissue cover. These are parts that will perform as advertised and exceed expectations when it comes down to quality.

Project MU has a nice selection of street pads to choose from to satisfy many different driving styles and usages. Here is a nice chart for reference purposes regarding the various pads, however I will include some additional information about each pad type below.​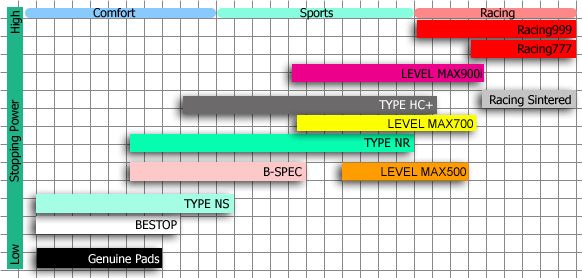 ​
Type NS
: Project Mu Type NS Brake Pads are developed specifically for street use. Guaranteed to outperform OEM pads, Project Mu Type NS Brake Pads are reliable in any weather or road conditions. Type NS Brake Pads give outstanding initial stopping power that is of prime importance on the street. Made from an Asbestos-free brake compound, NS street pads also have very minimal dust and very low squeal properties. Project Mu Type NS Brake Pads are manufactured from a proprietary blend of organics, resins, fiberglass, and ceramics.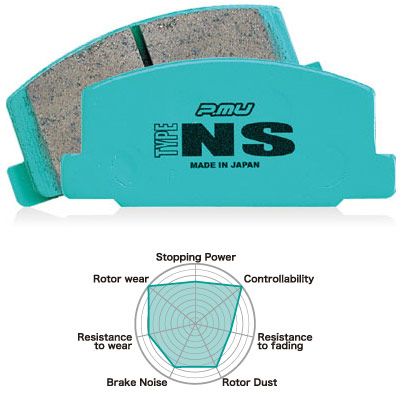 * Compound - Hyper Carbon NS
* Rotor Temp - 0~400℃
* Friction - 0.37~0.40μ
* Applications - Street Driving
B-Spec
: The Project Mu B-Spec Brake Pad are designed to improve the overall braking power of any performance street vehicle. B-Spec Pads has been developed for street and light track use where initial stopping power and resistance to fade is of prime importance. B-Spec has excellent wear and dust characteristics and are kind to the rotor even in track day environments.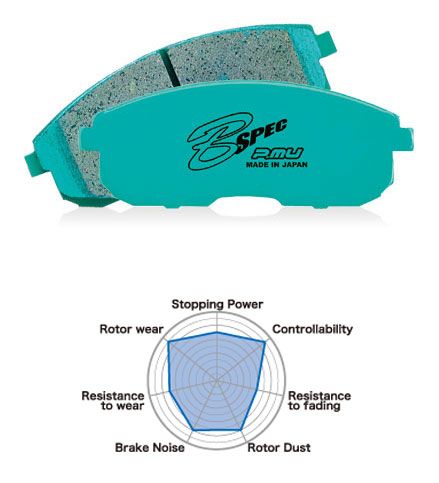 * Compound - Hyper Carbon B
* Rotor Temp: 0~500℃
* Friction - 0.32~0.42μ
* Applications - Street Driving, Performance Driving, Light Track Duty
HC800
: Project Mu HC800 Brake Pads are a premium performance street, race, and rally brake pad. HC800 Brake Pads have more bite than both NS400 and B-Spec and has excellent fade resistance. Capable of operating at temperatures up to 800° (1,472°f), this pad will handle almost all serious braking conditions. Along with temperature capabilities, HC800 is characterized as a "drivers pad" with unmatched driver feel and control. HC800 is a genuine 'crossover' pad suitable for both road and race. It is extremely capable in competition environments, so use this pad if you are involved in serious track day, rally, etc.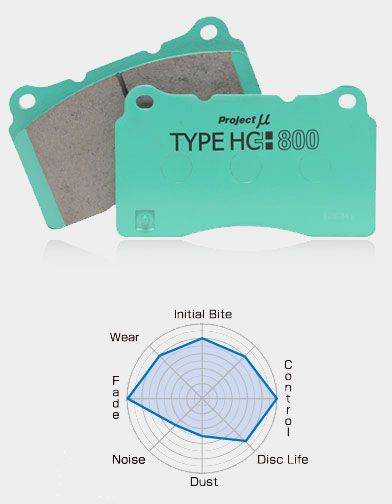 * Compound - Hyper Carbon NS
* Rotor Temp - N4 0-800° C (0-1472°F)
* Friction - 0.43-0.58μ
* Applications - Track Day, Rally, Performance Driving, AutoX
For those not wanting to do a complete caliper upgrade they also offer the very nice
SCR Pure Plus6 rotors
, and their SCR PRO 2piece rotors for certain applications. The
SCR Pure Plus6
rotors Made 100% in Japan and constructed of high quality heat treated cast iron, the new SCR rotor is the latest addition to Project Mu's rotor line up. The SCR rotor's are affordably priced and feature an 8 slot per side design to help prevent glazing of pad material which ensures consistent braking.
The
SCR Pro 2-piece
rotor employs a two-piece structure for superior durability, heat resistance and heat release. Using High-alloy high-carbon FC cast-iron, this model has improved its crack-resistance dramatically and is lighter than genuine parts. These feature a High-alloy high-carbon FC cast iron coated with rust-resistant agent for the disc and Ultra-hard aluminum alloy and alumite coating for the rotor hat.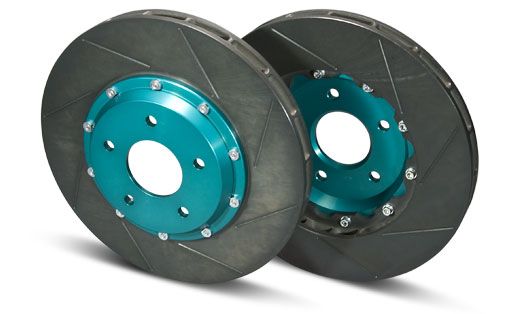 G-Four 335
: Project MU also has some high quality brake fluid to consider when upgrading your brake system. Totally reliable brake fluid that combines a boiling point so high it's in another dimension with durability and performance. G-Four 335 also has a lifespan indicator. When the color changes from green to crystal clear, you know it's time to change fluid.