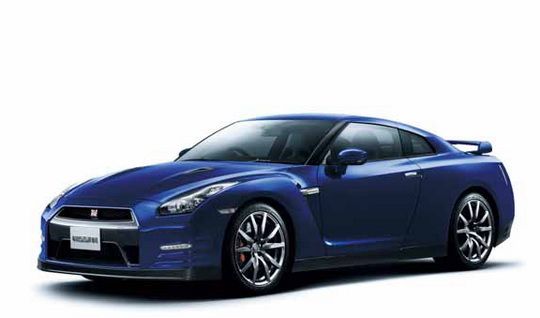 Mizuno-san & Co are back. This time they're claiming to have raised the bar. Again. Given their prior track record, there's no reason to doubt them. The industry should definitely be concerned at this point: Nissan has been given no shortage of justifiable reasons to scale down their work on the GT-R. But, in what should have been and relatively minor mid life update to the car, we instead get a thorough ground-up revision of the platform… and the company is claiming that a new benchmark has been set in the process. Competitors should be very concerned indeed.
Improvements to the GT-R are far more substantial than expected. They run so deep that the new GT-R is no longer the CBA-R35. Instead, it is now the DBA-R35, as Mizuno-san has apparently thought it appropriate to tweak even the chassis. This is a rare sight, it's not often that you get this much of an upgrade in a mid life refresh. Then again, it's not often that you have something like a GT-R to begin with. So perhaps it makes sense that the creators of the R35 would operate in such a fashion.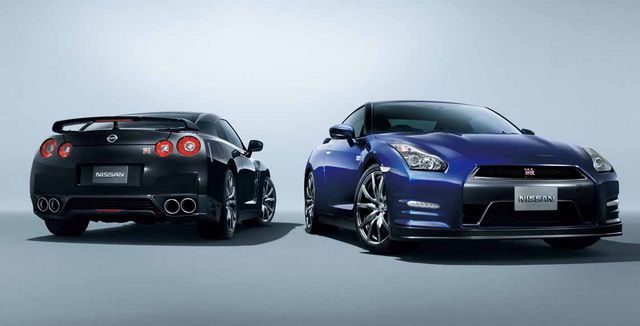 In evaluating what Nissan has done, it's important to remember what the GT-R is and what the GT-R offers. There's no other way to evaluate the improvements in the underlying car.
The GT-R is a performance machine that's designed to be deployed globally, for use in all conditions. Many will find that line to be all too familiar, but its importance cannot be understated. If you're asked to design a vehicle, you must design to a specification. In a race series like Formula 1, NASCAR, or Le Mans, that amounts to a specific set of technical regulations. On the street it's much more ambiguous, but no less critical for the success of the vehicle.
Design compromises have to constantly be made to achieve desired results. Some of these compromises are high level, such as the sacrifice of performance for cost, or power for efficiency. Other compromises are lower level, such as vehicle handling and control over rough terrain vs performance on super smooth race tracks. In all, while nearly everything is a compromise, the great thing about the GT-R is just how much it gets
right
. Its achievements on its own are impressive. The fact that it does so at the price that it carries is astonishing. That is the success that is the GT-R. It is a masterpiece, although like many masterpieces, it is unlikely to be fully understood for what it is until possibly after its time.
In the here and now though, the GT-R is asked to do many things. Even among enthusiasts, there are a variety of conflicting requirements that the community has of it. Some want to utilize the GT-R for its utility as a daily driver, with possible winter duty. Others look to the GT-R as a platform to compete with in a race series. Yet others seek to daily drive the GT-R and take it on mountain or canyon runs. And some want to do a little bit of everything. Then there's the mix in value perspectives: to some owners, a GT-R at MSRP may represent a week's earnings or less. To others, it may be a lifelong goal.
How do you improve on a car that will see so many uses, by so many users, given that many of those needs conflict with each other? Most would have expected a power increase, more suspension fine tuning, maybe a new bumper or two and some wheels. They would have said the base car is very good as it is. In this environment, a vast majority of enthusiasts would have agreed with that assessment and been happy with just that. Nissan however, had other ideas. Instead of doing the expected, they allowed Mizuno-san to rebuild the car as he saw fit, from the ground up, doing what he does best. This is what he has done:
Starting with the chassis, the new DBA-R35 features a number of core chassis revisions.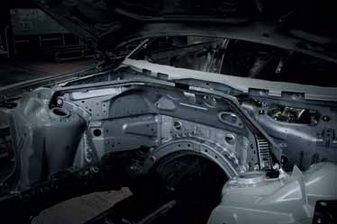 The most significant of the chassis improvements is reinforcement on the front end of the car. The forward suspension strut towers have been structurally strengthened with carbon and aluminum materials. Nissan claims this increase in rigidity will help improve the joint stiffness, which in turn will improve the accuracy and directness of the car's response. Also in the strengthening, the dashboard support area has been reinforced as well. Remember, you can never have a chassis that is too rigid or too strong. The better a chassis is, the more efficient the weight transfer characteristics can be. The more efficient the weight transfer characteristics are, the better a car can properly load its tires, and the better a car can perform.
The mechanism that optimizes the GT-R's tire loading with regards to its weight transfer characteristics is its suspension.
The DBA-R35 features a revised suspension layout, not only seeing new spring rates and dampers, but also revised geometry and construction. Specifically, the front suspension features a new leverage ratio which, according to Nissan, improves the efficiency of the shock absorbers and stabilizer. The shock itself is said to respond quicker due in part to a new aluminum free piston design. Nissan also claims that damping force generation is more accurate with less friction and improved oil flow, benefiting both ride quality and composure. The front caster angle has been increased, from 5°30 to 6°00, in an effort to improve steering feel and stability. At the rear of the car, Nissan has adjusted the rear suspension's roll center to better tune the feel of the car. The goal of this work? Improved ride smoothness and stability while also improving both comfort and performance at the same time. While the degree to which they're successful will ultimately show itself in real world use on both less than ideal streets and challenging, technical tracks, these changes are potentially very significant as the feel and performance of the already excellent handling GT-R is likely to have been substantially improved.
The front brakes of the new DBA-R35 have been freshly made over as well. Interestingly, these improvements are in line with what many in the aftermarket have sought to accomplish, as Nissan is claiming to have improved both pad and rotor life. Central to the revision is a 10mm increase in the size of the front rotors, bringing them to 390mm. This is claimed to not only improve the life of braking components but also reduce temperatures. Of note to frequent racers, Nissan has also claimed to have tweaked the engagement and distribution characteristics of ABS and VDC . Since GT-R drivers will know that the current characteristics, while good, are far from perfect, this has the potential to be a very welcome change.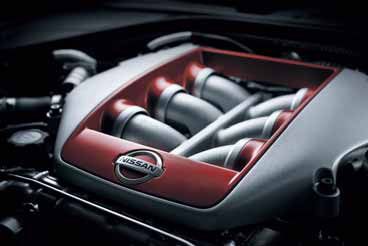 Propelling the DBA-R35 forward is likely to be the same VR38 as seen in the CBA-R35, at least, based what we know so far. Nissan's said that the DBA-R35 will be 3% more efficient, although they've stopped short of going too far into details. The only disclosed facts are that the new PS rated output will begin with a 5, or if you count in kilowatts, a 3. Peak power output is noted to occur at 6,400rpm. Whatever the new changes may be, Nissan says that torque output will be "significantly" improved. In the engine bay and on the intake side, Nissan is utilizing a larger diameter intake piping, which they claim reduces drag on air being brought into the engine. On the exhaust side, the DBA-R35 is said to feature a larger final section. There is no confirmation yet regarding any other engine or transmission tweaks, so we'll have to wait for more on that.
Translating the torque output of the transmission into a force to propel the car forward are two new sets of summer tires. The first is the recently uncovered Bridgestone Potenza RE070R R2 tires, which are already available in limited quantities. But the second is a new specification of Dunlops, called Dunlop SP Sport Maxx GT 600 DSST CTT. While images we've seen so far show a very similar, if not identical, tread pattern, one can't judge a tire by how it looks. Nissan says the new Dunlops feature a new tread compound and a modified internal structure for improved grip. Better tread and sidewall stiffness were both noted as well. Those are significant claims given the already outstanding level of grip and feel already offered by the current Dunlops.
The new tires will wrap around some new 10 spoke Rays forged aluminum wheels, which have been prominently visible in many spy photos to date. The new wheels weigh approximately 13kg each and are said to feature a change in the knurling design. Probably more significant to enthusiasts, at least for those who have yet to have issues with tires slipping around the wheels, is the fact that these new wheels and tires contribute to a 3kg drop in unsprung weight in the new GT-R.
There have been a number of software side changes to the GT-R that are important to note as well, and should definitely not be missed. First off, the snow mode is now gone and is replaced by a fuel save mode. Nissan says this mode works for "non-sports" driving by reducing torque while modifying the scheduling of shift changes, thereby improving fuel economy. They say it also helps reduce fatigue in your ankles if you drive in the city a lot. I think that's a sound move in a market clamoring for better efficiency. Of more significance to many enthusiasts though, is that Nissan's work on Launch Control has continued. The DBA-R35 will be introduced with a fourth version of Launch Control, which we can all now call LC4. LC4 holds the RPM's at 4,000rpm before unleashing its "significantly" improved torque on the tarmac. This time, Nissan says you'll be able to accelerate and utilize grip to the "maximum degree." Zero to sixty times have improved they say, but they're keeping quiet on just how much the performance has been improved by.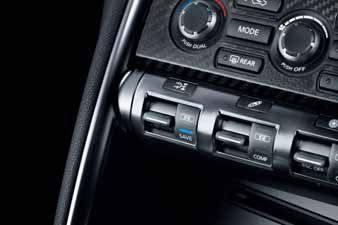 One interesting feature now enabled in the DBA-R35 is the ability to temporarily put the GT-R in 2WD mode. All you have to do is hold the transmission switch downward on fuel save mode (where snow mode used to be) for 4 seconds. The GT-R will then go rear drive only. It will be interesting to see how this feature will be used and what's possible with it. Of note, Nissan is encouraging owners to drive with the car in its default, all wheel drive mode.
Now for some of the stuff you may have already seen: the exterior modifications. The front and rear bumper and lower trims have been revised. As was spotted before, the DBA-R35 has integrated LEDs in the front bumper. As far as what you may not have known: Downforce has now been increased by 10% on the front of the car and drag has been reduced as well. Nissan also claims that air resistance inside the engine bay has been reduced, and that airflow through the radiator has been improved. Brake cooling has been improved as well, they say, as has transmission cooling thanks to revisions in the floor paneling of the GT-R.
On the inside of the car, things are largely the same with a couple notable exceptions.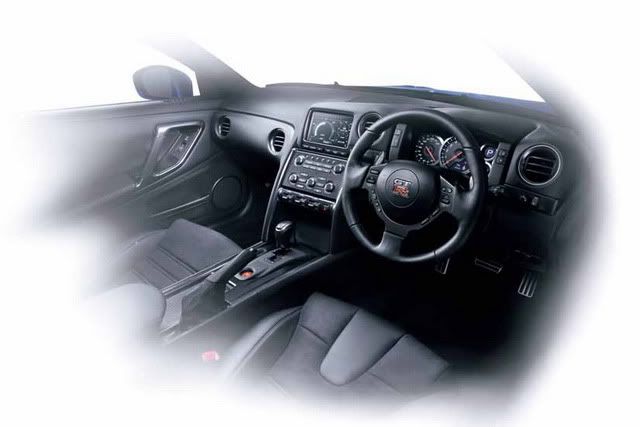 Within the instrument cluster, the trip computer is now blue instead of red. Elsewhere on the instrument panel, Nissan has added a real carbon fiber trim panel to the HVAC switchgear location and changed the knobs used. Of course, many have already done the former modification themselves via the aftermarket. Other interior changes include a softer seatbelt material with adjustments to tension and intensity, tweaks to the appearance of the GT-R logo on the steering wheel, as well as a new texture for the metal trim on the air conditioning vents as well as steering wheel paddles.
Although they already felt pretty solid, Nissan says the door quality has been improved further, with reductions in NVH at speed and multiple additional inner panel attachment points to improve fitment, noise, and quality feel. The trunk is now said to be easier to close as well. Of note, Nissan is going a step further with regards to NVH and vehicle assembly, claiming to not only have improved body panel fitment and accuracy, but also the way they test production fitment and assembly accuracy.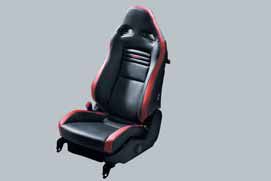 All versions of the standard GT-R get improvements in seating options. The Pure version and Black Edition get seat redesigns, which are said to offer more comfort, stability, and better absorb vibration all at the same time. Pure Edition customers will have the option to get the RECARO seats from the SpecV, for what is said to be an affordable cost… but regardless of the version you pick, seat heating is said to have been improved where available.
With all of these revisions, you might be concerned about weight. The good news is that weight is down 10kg across the board, for all standard DBA-R35 GT-R models.
The new colors for the GT-R, as already revealed, are blue and black, with both being metallic. Nissan says that the paint quality has been improved for all cars with the DBA-R35, which I believe is good news to many. Also interesting is that Nissan is claiming to have improved the quality of paint on white cars, particularly with regard to the difference between the color on steel or aluminum vs plastic sections of the car. Having previously seen a few complaints on that front, I believe Nissan is headed in the right direction here.
In all, Nissan must be complemented for the wide ranging changes put forward with the DBA-R35. The changes are, for the most part, fundamental, and likely to improve the platform as a whole. The GT-R is about performance in all conditions, and that's what a vast majority of the changes address.
With these changes, Nissan is claiming to have raised the bar. The changes are so comprehensive and Nissan's track record is so good, that they're very likely telling the truth. If there's anything one could reasonably ask for in such a mid life refresh, this would be it. Is the body redone with sexy feminine curves? No. Is it a superlight track toy? No. Is it super powerful? Not really.
But will it be fundamentally better? Will it be a better platform to drive daily? A better platform to build to race? A better platform to meet the needs of enthusiasts worldwide? It is very likely to be.
With these improvements as well as others, such as the fact that a new program will be put into place, at least in Japan, to assess used GT-Rs and help maintain market value, there's a definite sense of hope. It would seem Nissan is digging in with this car, attempting to deliver something truly amazing. I can only ask why they would do all of this, but I suppose Ghosn already answered that question years ago, at the R35 GT-R's original unveil:
"Still, some people ask us 'Why do you build a supercar like this now?' Because GT-R is our act of passion.
We are passionate about cars like some people are passionate about sport, art, or music."
Like any legend or masterpiece of work, it will likely take time for the community to fully understand what Nissan has done, and continues to do, but one thing is for certain: this is a great time to be a GT-R enthusiast.