I Installed the LC5 Alpha Software from Cobb into my AP 006 and sent my custom tuned Jack C map to Joe.
He returned the map with a 4100rpm LC4 launch.
LC5 now officially works on my 2010.
Here is how to install the Cobb alpha firmware #: 1.6.5.1-3587 into your 09-12 GT-R
First uninstall the Cobb software from your car entirely. Then.....
1. Run new version AccessPORT Manager
http://www.accessecu...tup-2.0.2.1.exe
2. Go to the "Options" Tab.
3. Copy the "Options" configuration from the below screen shot.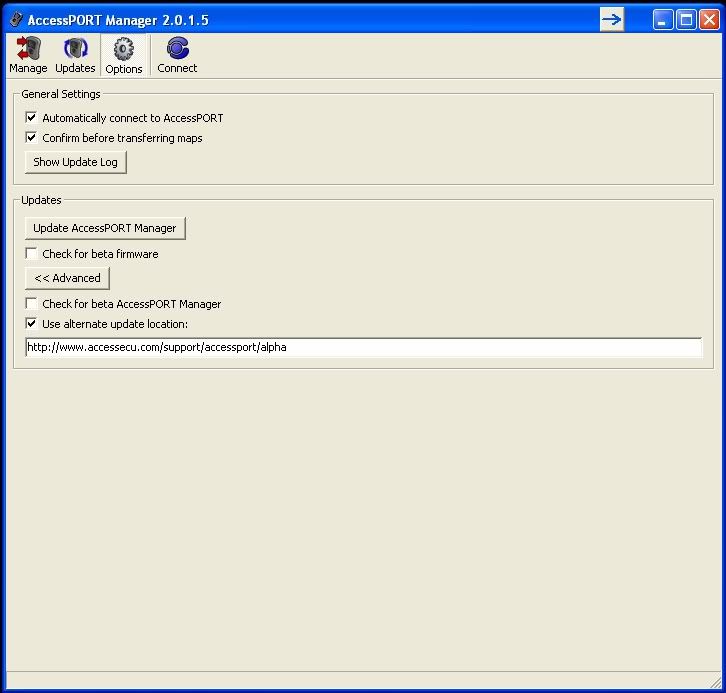 4. Go to "Updates"
5. Update your AccessPORT
6. Once you've updated your AccessPORT you should be on version alpha firmware #: 1.6.5.1-3587
Then install the AccessPORT. After you have installed your ECU tune the AP will ask you what TCM tune you would like to install. Choose the "KB51B Stock Style LC4 VDC off"
If you want to have the 2012/13 Launch control on your car send an email to Joe @ COBBTuning.com (remove the white spaces) and tell him you want LC4 launch on your GT-R! Make sure you tell him what year you have.