One of the first things every GT-R owner should consider doing is a free flowing exhaust system to enhance the beautiful exhaust note that Nissan has engineered out of the VR38DETT power plant. This also unlocks a large amount of untapped power when combined with quality tuning. We have all the top quality exhaust components needed to fully upgrade your R35. From Japanese engineering firms like HKS and GReddy/TRUST, to American based powerhouses like ETS and AMS Performance you can depend on us to provide reliable recommendations and brands that you will be proud to have installed on your GT-R. For customers in the South Eastern areas we can provide complete installation services and custom dyno tuning to further enhance performance. Just let us know what you are looking for and we will do the best we can to find a system that will meet your needs!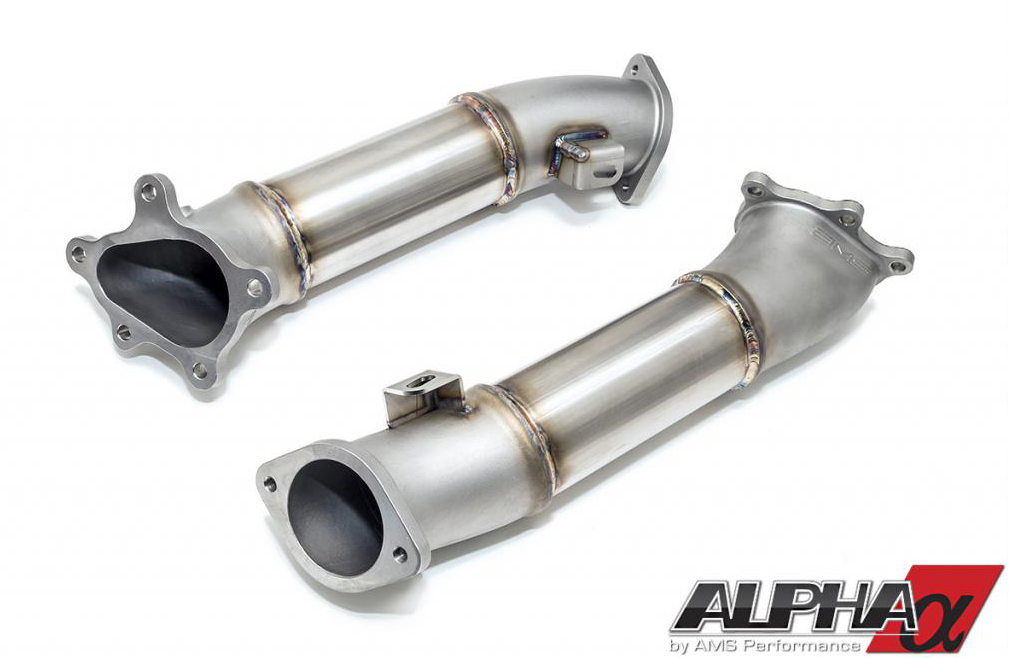 AMS Alpha GT-R Downpipes
: The Alpha Nissan GT-R 90mm Cast Widemouth Downpipes are the best performing and most durable on the market. During testing our shop GT-R with Alpha upgraded turbos saw gains accross the power band of 100 wheel horsepower and over 130 ft lbs of torque with this simple bolt-on! Turbo spool-up was also improved by almost 400rpm!Unparalleled Durability and Performance through Proper EngineeringOur downpipes perform better and are not prone to cracking like the alternatives offered by the competition. Their versions have many welded seams which are prone to failure. By casting these downpipes in robust 304 Stainless Steel AMS is not limited by the design restraints of hand fabricated construction. The AMS engineering team utilized Solidworks (3D CAD software) to blueprint the inlet and outlets with smoother features and geometry to optimize exhaust flow. They also provided thick flanges to prevent exhaust leaks and utilize the factory mounting hardware for OEM like fitment.Most other systems implement 76mm (3") downpipes that can cause unnecessary backpressure. By using a larger 90mm (3.5") primary pipe AMS is able to optimize exhaust gas flow, freeing up horsepower while improving spool time and throttle response. An exhaust note that is music to your earsAMS Widemouth Downpipes offer a more pronounced, throaty exhaust note under wide open throttle yet are subdued at idle and while cruising. A perfectly balanced sound for the ultimate all around supercar!Buy it once; enjoy it for the life of the carThe Alpha Nissan GT-R 90mm Widemouth Downpipes will easily support any future modifications. Combined with unrivaled fit, finish, durability and performance you can enjoy them for the life of the car.The Alpha Widemouth Downpipes are the ideal balance of appropriate sizing and geometry resulting in a perfect equilibrium of performance, sound and fitment.Do it right the first time, order your Alpha Widemouth Downpipes today!
Features:
​
Big horsepower increases throughout the powerband

Improved turbo spool and throttle response

Cast construction offers added performance and reliability over the competition

Pronounced, throaty exhaust note under wide open throttle yet is subdued at idle and while cruising

Large 90mm (3.5") primary section for optimal exhaust flow

Stock like fitment with no chassis clearance issues

Bolts up to the stock mid-pipe or most aftermarket systems

Precision TIG welded with unrivaled fit and finish
Downpipes also available from
:
HKS Japan
GReddy/TRUST
ETS
Cobb Tuning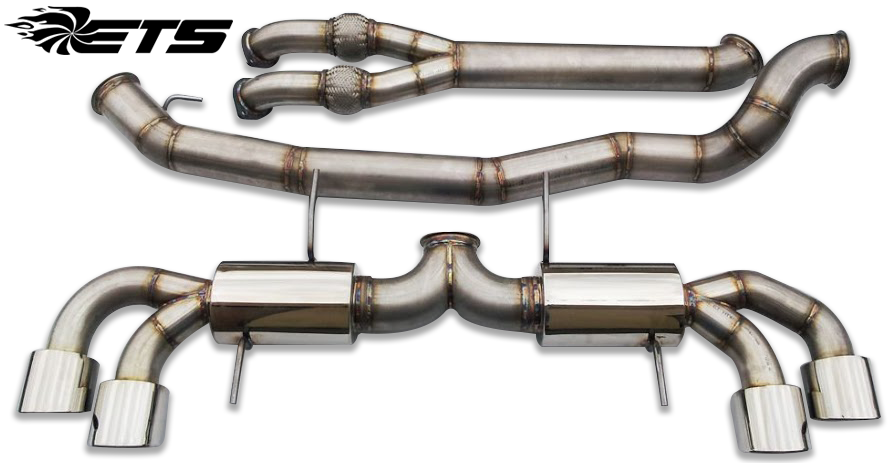 ETS GT-R Stainless Steel exhaust system
: The ETS GT-R 4.0" Stainless Steel Exhaust System is the largest and highest flowing exhaust system on the market. This exhaust has zero restrictions starting with a 4.0" mid pipe which routes into a full 4.0" cat back exhaust system and features a true 4.0" merge collector which routes into 4.0" mufflers and from the mufflers we use a 4.0" merge collector that routes into dual 3.0" mandrel bends for the exhaust tips and finish the exhaust system with polished stainless tips which will never flake like some of the chrome coated exhausts on the market.
Features:
Full Stainless Steel
Direct bolt on to factory Y-Pipe.
True 4.0" merge collector into dual 4.0" mufflers.
True 4.0" to 3.0" Merge collector from muffler to exhaust tips.
Stainless Steel Tips (not chrome / will not rust)
Largest GT-R exhaust system on the market.
Fully built in house.
Includes:
4.0" Mid-Pipe
4.0" Catback
All Clamps and Hardware Needed For Install\
Exhaust systems also available from:
HKS Japan
Akrapovic
GReddy/TRUST
Apex'I
Synapse
Takeda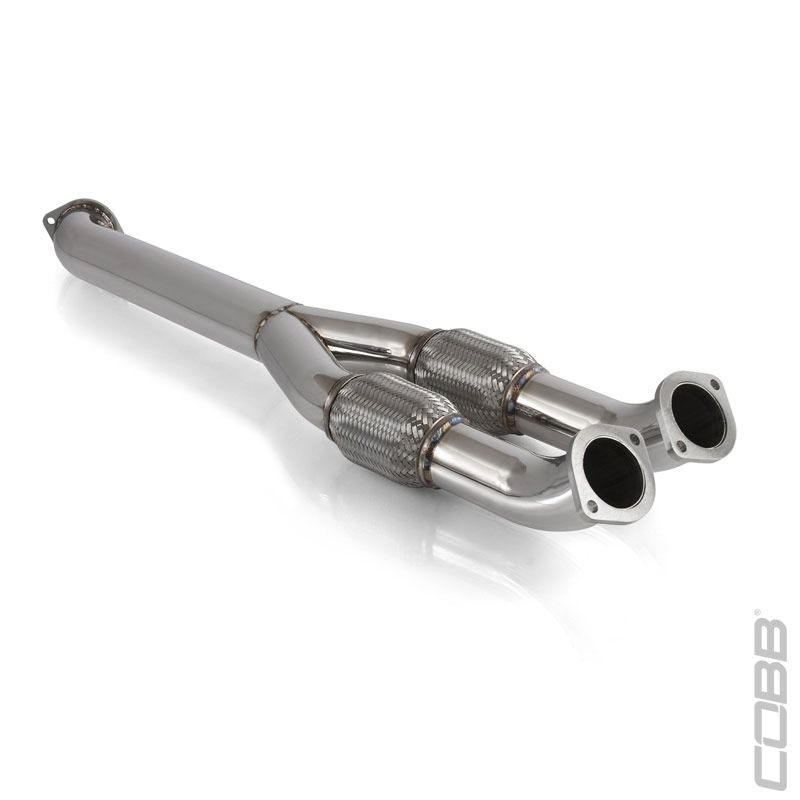 Cobb Tuning GT-R 3.5" Stainless Steel Y-Pipe
: COBB Tuning is pleased to announce the 3.5-inch Stainless Steel Y-Pipe for the Nissan GT-R. The stock y-pipe with factory catalytic converters is a restrictive element in the GT-R's exhaust system. The COBB 3.5-inch SS Y-Pipe is offered in both Race and high-flow cat versions that reduce exhaust restriction and allow the GT-R to make more power with less effort. Both the catted and Race versions of the COBB 3.5-inch SS Y-Pipe are constructed of 304 stainless steel and TIG welded. The stainless steel flex sections are internally-lined for added lifespan and smoother exhaust flow. Dual 3-inch downpipes feed into a 3.5-inch main pipe. The Y-pipe is designed as a direct factory replacement part.
Cobb Stainless steel y-pipe features:
Large gains in HP & TQ
304 stainless throughout
TIG welded
Direct replacement for OEM
Y-Pipes also available from
:
GReddy/TRUST
HKS Japan
AMS Performance
Extreme Turbo Systems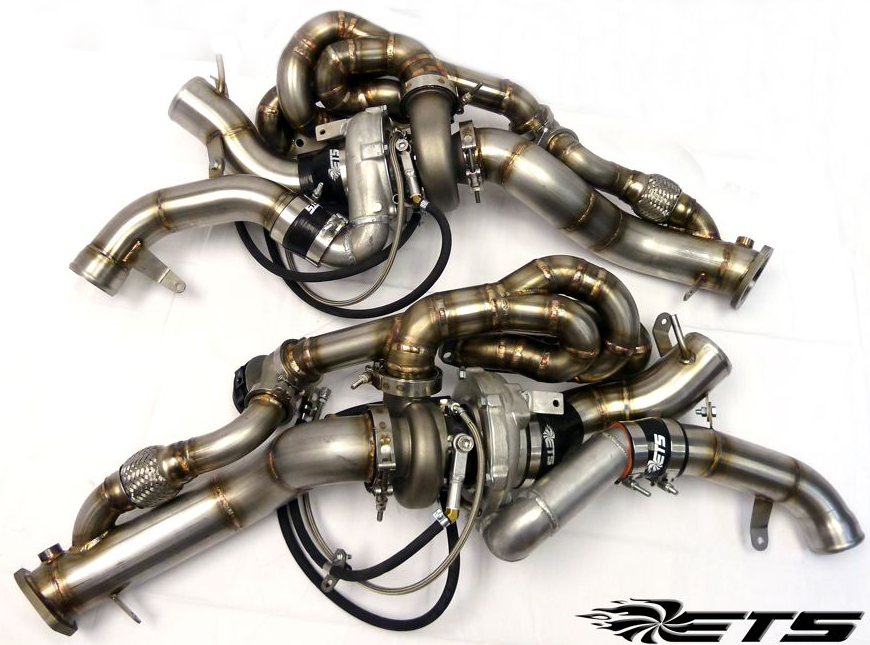 ETS GT-R Turbo Kit upgrade
:
For serious power upgrades on the Nissan GT-R
look no further than an ETS GT-R Turbo Kit. Packed with features like our high flowing 1.9" runner ETS manifold, true Merge Collector, full 3" Downpipe, Recirculated waste gate, high flow large diameter intercooler piping, Tial 44mm MVR Wastegates, Heat Shields, and a wide range of turbochargers, these kits will get the job done, street or track. Along with great performance, Features such as an exhaust flex, T-Bolt Clamps, 4plysilicone, and braided oil lines, will help make sure that you do not have to use the ETS Life Time Warranty!
Features:
1.9" Runners over competitors 1.25" Runners
S Covers (4.0" Inlet) vs competitors E Cover (3.0" Inlet)
Fits Garrett 30R, 35R, GTX30R, GTX35R, HTA30R, HTA3582R, HTA3586R Turbochargers.
Includes:
2x Manifolds
2x Turbochargers
2x Wastegates
2x Downpipes
2x Dump Tubes (Recirculated)
2x Heat Shields
2x 44mm TiAL MVR Wastegates
2x Inlet Tubes
Lower Intercooler Piping
Oil Lines
Water Lines
What makes this kit better than the rest?:
Large runners - At 630cc per cylinder, the vr38 is 21% per cylinder larger than most 3.0l 6cyl and 2.0l 4cyl. On a cylinder to cylinder basis. To put a small runner on such a large cylinder is like putting a restrictor plate on the engine.
S Cover Turbos - Most kits on the market use what's called a "Compact" cover turbo, or a hybrid turbo with either a Subaru, or Mitsubishi 20g housings. At low flow rates these housings work OK, but on anything over 800whp we feel that they are less than optimal compared to a true Garrett or "S" cover. The reason the S cover performs so much better is that they have a much larger diffuser area. This is the area where the air leaving the compressor wheel has time to slow down before leaving the compressor housing of the turbo. As the larger the area that the air is allowed to slow down in, the higher the pressure ration that the turbo can operate in. Also the lower the outlet temps will be.
Heat Shields - As the front of the GT-R is Aluminum, an unshielded kit can distort or weaken the front end of the vehicle. Also on the passenger side, the fuel lines must be kept cool for both the obvious fire reasons, but also to avoid tuning issues with a varying fuel density. Also if the fuel is allowed to get too hot, it can cause vapor lock issues at the inlets of very high flow pumps.
Pre-Assembled - Because of the very tight fitment of the R35 engine bay, ETS feels that the alignment of the kit must be perfect. The V-Band connections allow for a multitude of clocking positions, if not clocked perfectly, there could be many in and out attempts for install. This will cost either the shop or the customer excess money. To minimize this confusion, our kits come pre-assembled, with all water and oil lines installed. This will be a major labor savings at time of install.
Equal length runners - All cylinders, front to back and side to side have runners of a mean length of 12" =/- .300 This allows for precise tuning, crisper throttle response and less individual cylinder trimming. Also to compliment the 12" length which will work best 6500-8000 rpm, ETS uses a moderately angled merge collector so there is a powerful scavenging effect to adjacent cylinders at the collector. This creates less back pressure at the exhaust valves and better overall breathing of the engine.
Wastegates in line with flow - With the very high flow rates of the new billet wheel turbo's, ETS has found the wastegate system must be very efficient, or else boost creep could be induced. As well a keeping run away boost under control, a very efficient wastegate system will allow tuners to start a tune at a much lower boost pressure, ensuring that the whole tuning process is done safely.
Factory Intake, IC pipe positions - Both the intakes and intercooler pipes terminate in factory positions, allowing the turbo kit to bolt up to your existing stock turbo intakes and Intercooler kits.
Down Pipes to factory locations - The High flowing 3" v band downpipes terminate at factory location allowing perfect connection to factory or aftermarket Y pipes. Downpipes are also bracketed to help locate the correct clocking outside the car
Critical Lines Away from heat - All of the Oil/Water lines are routed away from heat, down and around the turbos, instead of over and across the turbos. This will ensure a lifetime service life for these lines, while also lowering the temperatures of the fluids within the lines.
Support Brackets for Critical Lines - All Oil / Water lines are bracketed to prevent vibration or failures. This is extremely important for track vehicles, where high vibration and G forces can cause premature failure of unsupported lines.
Fully ported at every transition - From the head flanges to the exhaust flanges and even the PCV barbs in between, ETS prides ourselves on the best craftsmanship and attention to detail in the industry. This means that all flanges are surfaced, all transitions ported, and all pieces are clean. These details may not make any major power differences, but it can be the difference in numbers such as 998 vs 1002 whp.
Lifetime Warranty - Full Lifetime warranty on all fabricated parts, and manufactures warranty on turbo's.
Complete turbo upgrade kits also available from:
AMS Alpha Packages
HKS Japan
GReddy/TRUST
PM, call, or E-mail for most up to date pricing!
Motion Lab is your official ETS, HKS, Cobb Tuning, and AMS dealers. We are open Monday - Friday 9AM EST to 6PM EST and Saturdays 10AM to 1PM. You can contact us via forum messaging, E-mail, and telephone.
As always if you don't see it, just ask!
Thanks for looking!
Alex Goodwin
[email protected]
MotionLabTuning.com - Engineering Performance