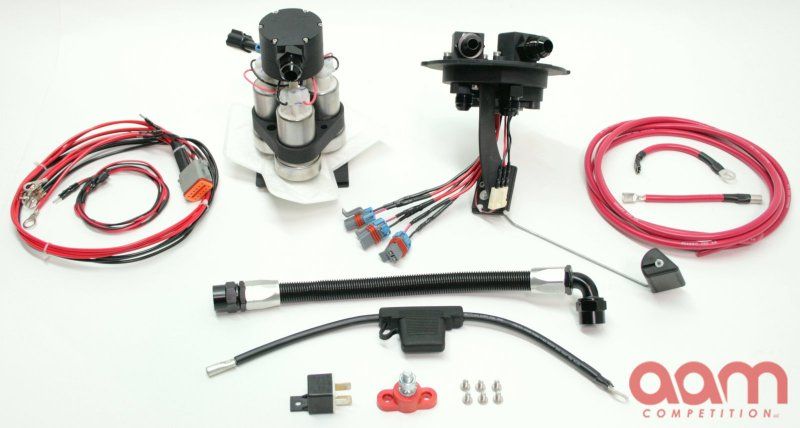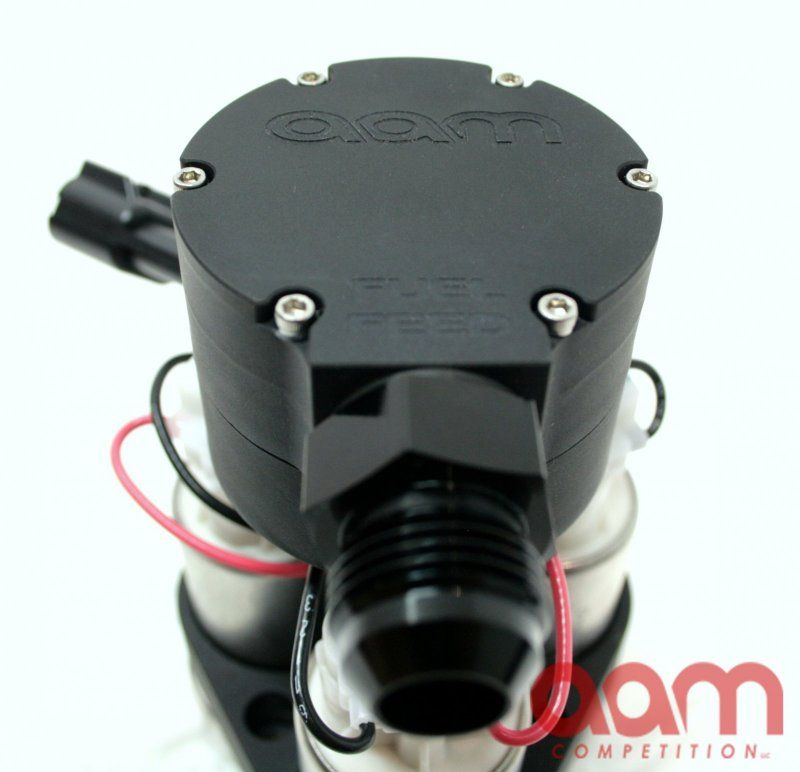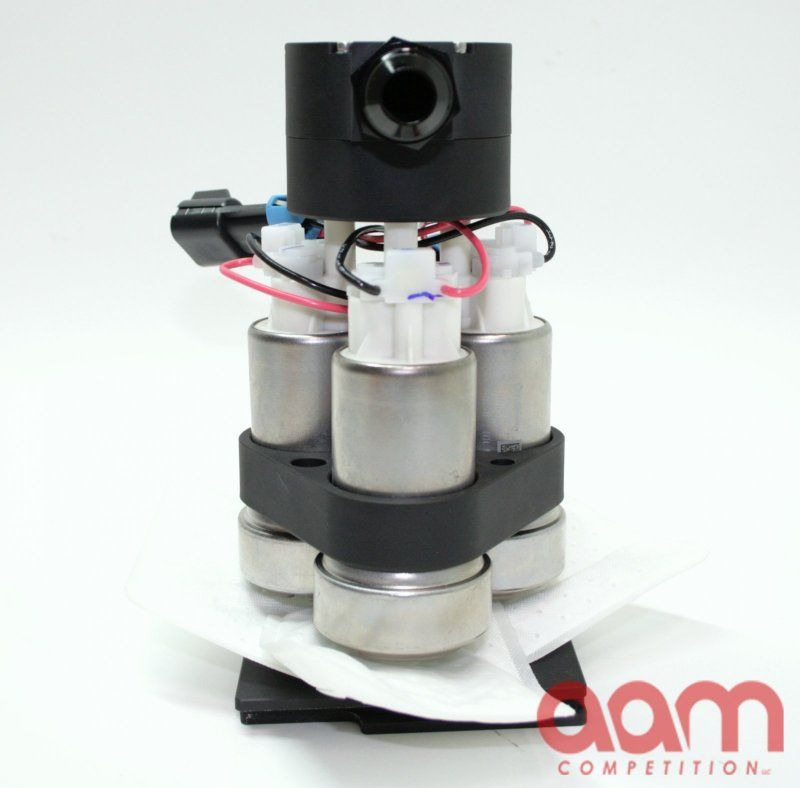 The AAM Competition R-Line Triple Pump Fuel System is the ultimate fuel solution for Nissan GT-R's pushing the horsepower envelope. Designed for GT-R's running over 850+ hp on gasoline and 750+ hp on E85, our system is plug-and-play for easy installation and will support up to 2000hp.
AAM Competition R-Line Triple Pump Fuel System Includes
:
AAM Competition Billet Fuel Pump Assembly
AAM Competition Billet Fuel Rails
Triple Walboro 400lph pumps
Pro- Series Billet Aluminum 1:1 Fuel Pressure Regulator
Teflon braided fuel lines
Anodized AN fittings
Plug and play wiring with E85 safe wires and connectors
Full instructions for easy installation
Benefits:
Fuel support for up to 2000hp
Reliable, uses proven Walboro fuel pumps
Consistent fuel delivery, increases engine management tuning consistency
Quiet operation, entire system neatly contained inside fuel tank
No vibration, internally insulated pump mounting
Pump gas, race gas, and ethanol (E85) fuel compatible
Viton o-rings all around for best sealing and ethanol fuel compatibility
Billet 6061 aluminum construction, anodized black
Braided hoses and AN fittings for tight and secure seals
No fuel smell, Teflon lined hoses stop fuel permeation
Large 10AN feed and return fittings for maximum fuel supply
Integration with the OE siphon system
Complete replacement of OEM unit, no modifying or piecing together.
Easy installation - fuel pump assembly and fuel lines are pre-assembled for drop in installation
Supply and Demand
Technology advances have evolved the Nissan GT-R well past 1000hp. Proven recipes for the engine, transmission, and turbochargers have helped propel the GT-R past this grand milestone.
With such high power ample fuel supply is required for safe and reliable operation. Unlike the engine, transmission, and turbochargers, until now there has not been a definitive solution for a safe, reliable, and quiet fuel system capable of supporting extreme power. Many one-off systems have been designed but at great cost and with significant limiting factors including cutting the factory trunk area/interior to accommodate a surge setup, fuel permeation (inability to park the GT-R in closed quarters, such as a garage), fuel temperature overheating, factory fuel level gauge not working properly, etc.
Seeking a better solution for our clients, AAM Competition set out to engineer
the ultimate GT-R Fuel System
. The design requirements were set: The system needed to supply enough fuel for 2000hp to satisfy the most advanced GT-R builds - without any limitations. With vehicles running various fuels, specifically E85 and E89, the setup had to be compatible with all fuel types and resist any corrosion. The design also needed to be free flowing, eliminating bottlenecks present with the factories plastic in-tank fuel assembly. Simplicity, easy configuration, and plug and play installation would be instrumental to making AAM Competition's ultimate solution.
The Ultimate GT-R Fuel System is born - The AAM Competition R-Line Triple Pump Fuel System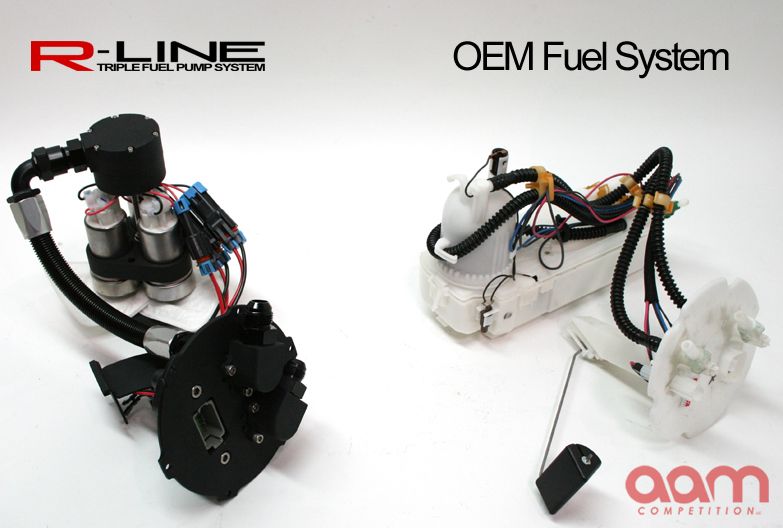 Walbro is the leading manufacturer of proven high performance fuel pumps. With the update of Walboro's high performance 400lph (liters per hour) pumps for E85 compatibility, these pumps became the obvious choice to integrate into our fuel systems' design. To meet our 2000hp target we would need to use three pumps. This left us with one significant issue - how will we fit three large fuel pumps in an area originally designed for two small fuel pumps?
The in house engineering team at AAM Competition discarded the enitre factory fuel pump assembly and completely engineered a new, two part design. Not only will this revolutionary design allow us to integrate the three larger 400lph fuel pumps, the two part design allows for easy installation, adjustability and ultimately better reliability. The newly engineered pump assembly houses the triple fuel pumps and channels the pressurized fuel into a single 10AN output. The tank bulkhead seals off the tank from the outside and has pass-through 10AN ports for feed and return lines as well as a fuel safe connector interface to channel power and signal wires from the cabin into the fuel tank. All aluminum components are anodized to prevent corrosion from ethanol fuels, ensuring long term durability.
Installation is easy. The AAM Competition Triple Pump Fuel System is a complete replacement for the OEM fuel tank assembly unit, making installation painless. To further simplify the installation the AAM Competition Triple Pump Fuel System comes pre-assembled, ready to replace the OEM unit.
Plug & Play. The OE level sender is retained in the original location with a new mount. A heavy duty, fuel safe connector is used to channel the wiring into the tank for the level sender and pumps. The connector seals the connection and contains the fumes and fuel inside the tank. A simple relay system is included and is triggered just like the OEM pumps. The wiring harness has pins that plug directly into the OEM connectors - no cutting or splicing is necessary of any OEM lines. The large 6 gauge wire with a fuse supplies power directly from the battery ensuring consistent and stable power.
R-Line Fuel Rails + Lines + 1:1 Fuel Pressure Regulator
Supplying steady flow of fuel to the engine at all times is critical. OEM lines are small and restrictive and need to be upgraded for 900+ horsepower.
The R-Line Fuel Rails + Lines feature 10AN Feed lines and 8AN Return lines for optimal flow. Using high grade, flexible Teflon fuel hoses make installation and routing of lines easy, and also seals in unwanted fuel fumes (unlike many aftermarket fuel systems, this system is "garage" friendly).
AN fittings and hose ends are used all around for a safe seal. Fuel is channeled through twin AAM Competition 6061 billet aluminum rails, anodized for corrosion resistance. The larger bore in the rails further eliminated bottlenecks in the system allowing for superior fuel flow. Aeromotive Pro-Series EFI 1:1 Fuel Regulator is used to control the flow of fuel, providing a regulated flow of fuel for a factory like smooth idle. The line kits were designed to promote flow as much as possible, there are no "neck downs", completely eliminating restrictions.
The AAM Competition R-Line Triple Pump Fuel System is the ultimate fuel solution for the Nissan GT-R. Easy installation, plug-and-play, proven. For more details or to order the AAM Competition R-Line Triple Pump Fuel System visit
http://aamcompetition.com/i-9941200-aam-competition-r35-gt-r-r-line-triple-pump-fuel-system.html