I contacted Zohair @ BL back in June about some work I was looking to get done to my car. I had a basic midpipe, drop in filters, and an e-tune at this point. The car was OK at the time, but I wanted more as we all do.
I thought about what I really wanted, and what fit into the budget I had in mind. I wanted a car that was "capable" of 9s on pump gas 93, was reliable as stock, and I could get in on a Friday night and take my wife to dinner, but still have fun on the ride home. I also didn't want to break the bank. (All on a stock motor/transmission). I just wasn't ready for a full motor and trans build at that point. Messing with e85 at this point was unnecessary as the turbos can make good power on 93 at this level.
We talked it over and decided the 750x kit would fit the bill nicely.
http://www.boostlogi...r/750x-package/
Shipped to car to sunny Austin Texas from Upstate NY and the build went underway and parts were ordered. I also decided at this point to buy the 2015 headlights (super happy I did) but did end up pushing the build out as we had a faulty clip on one of the lights that had to be replaced.
Everything was installed (Thanks Roman), and sent over to Justin Nenni @ Tuning Concepts for the tune to be completed. They also fixed a botched alignment I had, and had TPMS sensors put in my HRE wheels.
I received the car back a few days ago, so my review is only my first impressions at this point. I have put probably 300 smile induced miles on it at this point already. The car drives absolutely fantastic. It idles and drives better than it did on an etune with stock turbos. The turbos spool SO FAST and holds power throughout the entire RPM band. I'd say the spool is equal or slightly better than stock. Power is always there. It pulls HARD compared to how it was before. With the R888 tires it does not spin and just hooks. Car idles like a stock car. I'm currently on 19psi and I can't imagine these turbos cranked up to 30 or so on e85. With the addition of the BL downpipes, the car just SINGS and I constantly find myself taking the long way home. The BL intercooler keeps temps down and really keeps everything cool. I could not be happier with this car and I don't know if I want to mess with building it until I get bored here. It's really more than enough power for the street around here, and downshifting in 3rd you come up on 120mph pretty quickly.
Huge thanks to Zohair, and Roman over at Boost Logic for putting up with me, and my large amount of questions. It's refreshing to find quality shops that do quality work without any corners being cut. The engine bay is a work of art now. First class all the way over there. It's the details that you really notice.
Car is being photographed next week.
Some Pics:
Motor yanked for new snails: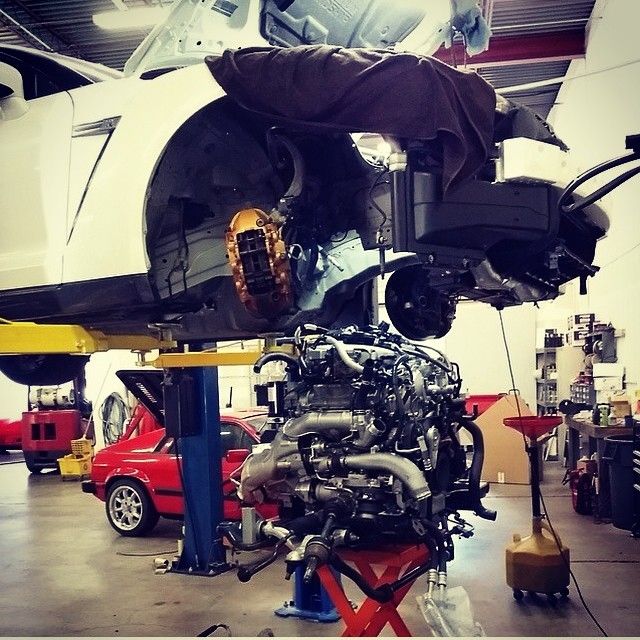 BL750x Package. (Custom coolant expansion tank on order)