Wekfest San Francisco! 02.19.2012!
1PM to 6PM
Fort Mason Festival & Herbst Pavilions
38 Fort Mason San Francisco, CA 94123
Wekfest.com
Weksosusa.com
Weaksauce.org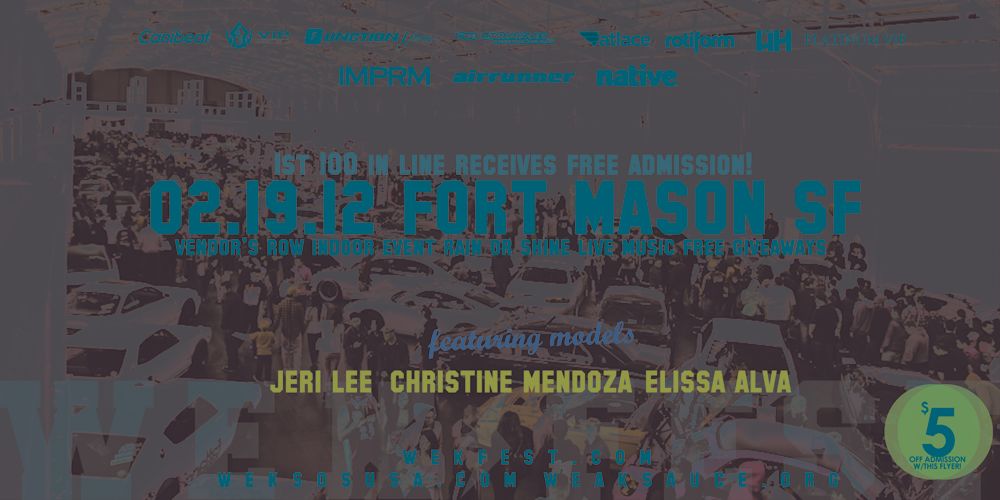 Wekfest San Francisco is back! Weksos Industries is proud to announce its fourth annual event at Fort Mason Festival and Herbst Pavilions in downtown San Francisco! Judging from last year's support from everyone, we have decided to bring the event back to the scenic Fort Mason venue! Come out and see some of the best cars our community has to offer!
This year we will feature three of the industry's elite models! Christine Mendoza, Jeri Lee and Elissa Alva!
Don't miss out as we will also provide selected first place winners with shoes sponsored by Native Shoes!
Registration for this event starts on December 25th!
Please e-mail
[email protected]
with the following:
Single Vehicle Registration:
contact name
phone #
car make / model
crew / team / forum
LINKS to car pictures only (no attachments)
Group Registration:
crew / group name
contact person name:
phone #
car make / model / links FOR EACH CAR
car make / model
Space is limited so please do NOT wait to register last minute. As always, we will go through a light screening process to ensure that we provide a quality event for the community! Please do not get discouraged by this as we appreciate anything that has character! The goal behind Wekfest is to diversify our ever growing scene and allow our supporters and visitors alike to enjoy an event we endlessly ensure would be one of the best in our region.
For vendor spaces, please e-mail
[email protected]
For general inquiries, please e-mail
[email protected]
For event sponsorships, please e-mail
[email protected]
Here are some pictures from last year's event: