Discussion Starter
·
#1
·
Well TX2K 2013 is in the books, and what a ride it was. I would like to thank Peter Blach and everyone that helped make TX2K happen. I have been to a lot of events over the years, but this one was top notch. Me and my team had a ton of fun during this 4 day event.
We honestly went out there not knowing what to expect as this was our first year at the event. The team was very excited to go out and rub elbows with the biggest names in the industry for sure. Our customers that went had also been anticipating it for months in advance.
We took 7 cars out there to play with, 2 shop cars and 5 customer cars. We entered in the road race on Thursday and then GT3 and GT2 drag classes.
The road course was a fun lay out for sure. There was some high speed banking along with some very tricky turns. I really enjoyed learning the track. We only had 4 sessions to learn the track and qualify for the Time Attack session so it was a little stressful. A lot of the other drivers had track experience there which plays a big roll when trying to lay down a time.
That said we had an absolute blast. One of our customers entered the beginner class and I was able to coach him through his first ever track day. That was a blast and an honor in itself...like being there when a baby takes his first steps
Jumping right out of his car and into mine was a little hectic but I loved every minute of it. By noon we had set down the 2nd fastest time of the day and qualified for the Time Attack session.
The fastest time of the day was held by a gentleman that happened to have the track record at TWS. Pretty hard to compete with. He was running a sweet tube chassis race car that weighed 2400lbs and put down 700+ Needless to say beating him in a steet car wasn't going to happen. The 6 car Time Attack was a blast though. We each laid down three laps in order to go as fast as we could. The whole rest of the field was GT-Rs behind that race car. When the dust settled it was the race car out in front with the TSM GT-R in 2nd place.
So i'm claiming fastest GT-R LOL!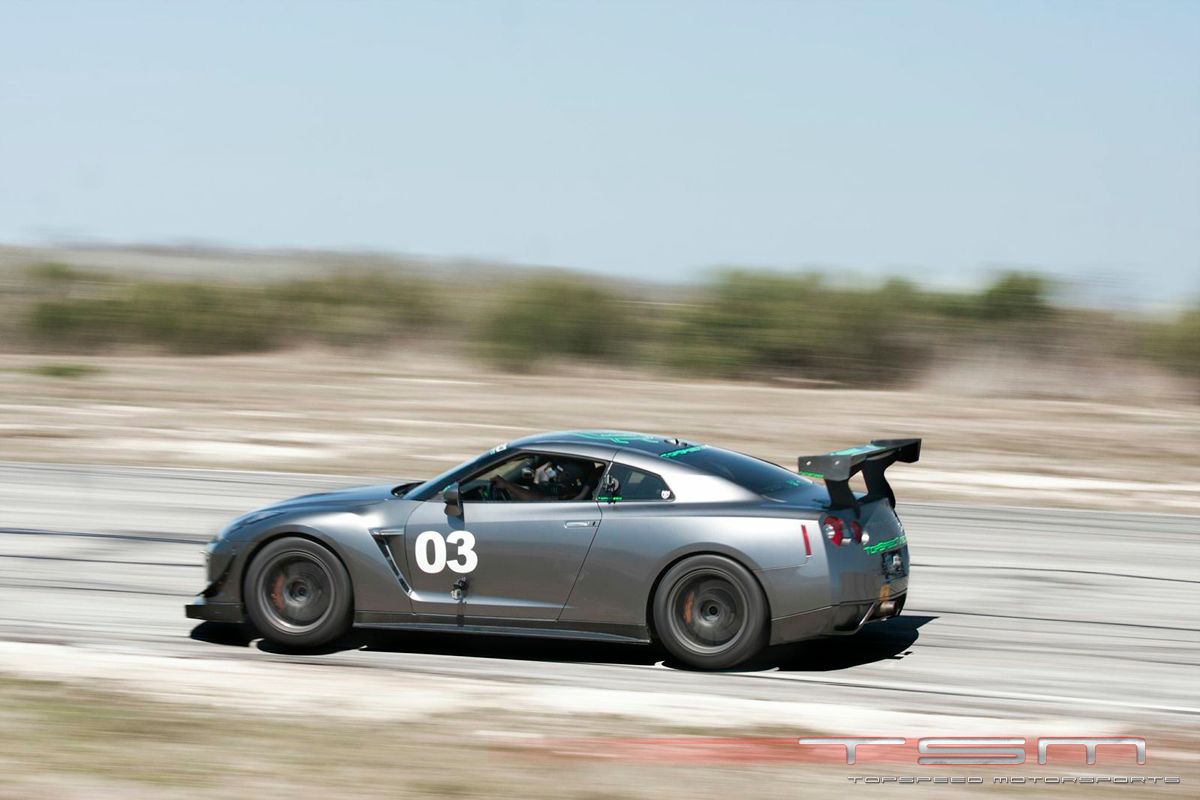 With the Road Course behind us we headed down to Houston for some drag racing. Friday was the dyno day which was pretty much just a meet and greet for us. None of the high HP GT-Rs were really getting strapped to the dyno due to the nature of the dyno so we had no real reason to either. Awesome day of meeting people and getting to know fellow vendors.
Saturday and Sunday were honestly a whirlwind. We had 5 customers running in the drag event and lots of work to do. Most of the day Saturday was spent dialing in the cars down the drag strip. Changing chassis and suspension stuff, ride height, tires, air pressures, and tuning them to the edge of traction in order to make them go as fast as possible. Seeing that we were working with Cobb and not a stand alone like Syvecs we had challenges trying to get the 60ft dialed in without traction control. However by the end of the day Saturday we were feeling pretty good that we were going to put a car in the 8s and a couple in the 9s.
Sunday morning rolled around and it was finals time! All the teams were getting ready to throw down! AMS, Switzer, T1 and JoTech I think were all right therein the paddock next to one another.
On a side note, I must say that I really really enjoyed watching all of the biggest names in the industry working together. Borrowing tools and parts from one another when needed, joking around and just having a good time! With some of the tension that has been present lately on the forums it was really nice to have a reminder as to who the quality adders to this industry really are, and how they respect each other. Very refreshing!
Anyway! First round of elimination came around in the GT3 on Sunday afternoon. We were running ATL-GTR's freshly built Alpha12 in the GT3 class. Our tuner Doug Wilks was behind the wheel and tore off down the 1/4 mile for the frist round. 8:90 @ 164 flashed up on the screen and the first round was ours!
We had been running 9.0x consistently all weekend just trying to get the car dialed in to the track. We also had no boost off the line so we had to build our own solution for that as well. It took a little doing to get the car ready for its 8 second pass, but we were up to the challenge!
Our GT2 car was Unabomber's car. Pro Nine turbos. We unfortunately didn't have much time to spend trying to dial in his car since we were pretty focused on getting the Alpha12 into the 8s. However he ran the car very well and took out some very fierce competition.
With two rounds left ATL's car was dialed in. We decided not to change a thing. Round two the car went 8:94 @ 163 once again besting the competition in the other lane. We were officially excited! We were in the finals, with two GT-Rs! Both of which had been finished days prior to the event.
In GT2 we were up against a audioenvy in his SIR E85 car. His car had been running awesome all weekend as well! Running consistant high 9s all day!
Unabomber unfortunately had to fly home early so I put MikeWads in the car for the final around against AudioEnvy. I think the long time drag racer MikeWads was a bit intimidating because we won by red light. Honestly not the way I wanted to see it go down...I love watching two cars tear down the track after each other...but as the great movie says.... winning is winning LOL. audioenvy had done a great job all weekend and I have to say his car was super fast on the street! Props to him and Bill for making a great product. So GT2 was in the bag, now it was time for the big boys!
It was final time! We were up against one of Tony's cars in the GT3 class that had been running great all weekend! He had been throwing down all weekend going fast and we were sure this was going to be no exception! The two cars had literally run 2 HUNDREDTH of a second from each other in the round prior so this was going to be a really really good race. We knew the race was going to be won on the light being that close so that was our focus...cut a great light!
The cars staged, turbos spooled as the two step popped as the tree dropped and both cars tore out of the whole, however Doug had gotten the jump! He had cut an amazing light and was a car out by the 60ft ...there was no catching him! The Alpha12 rolled out with it's third 8 second pass in a row running a 8.97!!! The GT3 class was won!
Me and my team were so excited we were beside ourselves! Bringing home the P1 spot in both GT3 and GT2 as well as the fastest GT-R on the road course! What an amazing weekend!
I have to thank my team so much for all the effort and late nights they put in both before and during this event. We worked so hard to come out and be competitive with the biggest names in the industry and we succeeded! I couldn't be more proud of my guys!
I also have to thank Unabomber and ATL-GTR for the awesome opportunity to build both of their cars! These are two of the coolest guys you will ever meet and it has been an honor to work with them. I can't tell you guys enough how much I appreciate your trust and support! No **** bro love!!!
To the boys at AMS! You guys rock! Thank you for the support, thank you for making a great product and we appreciate the good times!
I will have more pictures up and video tomorrow of the 1/4 mile runs as well as some sweet 60-130 pulls that Doug is about to do in the Alpha12!
Thanks so much for taking the time to read all of this and thanks for the support!