Greetings
We get asked a lot by our GTR customers what exactly the difference is in bringing your GTR to Kaizen Tuning vs a local dealership, or any other shop in New England for that matter. I wanted to discuss this here as we are seeing an influx of new GTR owners in New England as the 2012 / 2013 gets more established, and a new generation of 2009 / 2011 GTR owners pick up nice deals on used cars.
Kaizen Tuning - The Difference
Some of the main differences between ourselves in the dealer or local shop are pretty clear:
1.
Know How.
We started on the Nissan GTR as soon as they were introduced to the marketplace in 2008. We immediately started modifying local GTR's and purchased one of the first ones available on the east coast to start our R&D into what works and what does not on this platform. All of our techs work on GTR's every week, so unlike the dealerships in the area, we have know how into the inner working of these cars. A "GTR Tech" at a Nissan dealer is nothing more than a flat rate tech that went on a 4 day training course. They dont own these cars, nor do they work on them every day. So with choosing an independent shop, you can have confidence that your GTR will be in capable hands. This can not be said for many Nissan dealerships. We have been modding GTR's for 4 years, since they were first introduced to the market. Kaizen has the capabilities to do transmission work, motor work, turbo installs, fuel systems, custom fab, and dyno tuning in house.
2.
Level of care.
We know that as deaslership customers at one point we saw the level of care given to our cars at Nissan dealerships decline. The GTR is not a Sentra or Maxima, and should not be treated like it. Unfortunately, this is not the case in the USA. We have seen the difference between dealerships in the USA and those in Japan. The level of care that is given overseas far exceeds that of a USA dealership. We wanted to bring that level of care to GTR owners, that you wont find at a dealership.
3.
Enthusiast operated.
Kaizen Tuning is owned and operated by Nissan fanatics, who own GTR's, Silvias and Z cars. We know the history of the GTR, from the tracks in the 60's and 70's to modern GTR Ring times, and apply that know how to our customers cars. You wont find that kind of love for all things GTR at any dealership that is only concerned about the bottom line. We also service Ferrari, Porsche BMW and Audi (as well as Suby and Mitsubishi), do you really want someone that works on a dealership level working on your car, or someone that actually knows how to work on your GTR.
3.
We are not flat rate
. This point is critical to the level of care given to your car at Kaizen Tuning. At a dealership, all techs are paid per job, the faster your car is on and off the lift, the more they are paid, therefore the more the dealership can put in their pocket. At Kaizen Tuning, our techs are paid hourly. We take our time on the cars that come to us to make sure that our level of care exceeds your expectation. That can not be said for a dealership tech that is rushing to get your car on an off the lift so he can put more in his pocket. This is a critical difference in how high end cars are serviced through Porsche, Ferrari, and other high end car service departments. We follow how a high end car SHOULD be serviced and pay our techs, who, as explained above, are more experienced than a dealership tech, accordingly. This is an ugly truth and why on so many occasions, GTR owners are treated like one of the heard.
4.
We use what works.
We have years of know how on the R35, on the street, on the track, and at the strip. We recommend parts and fluids on the GTR that is not forced down our throats. We test everything we use on our own GTR before signing it off for use on our customers cars. We have tested, and re-tested, and then come to a conclusion that what we offer to you is right for your application. We have partnered with the best shops from around the world, and can call on these experts if a problem comes up, or need a recommendation.
5.
One size does not fit all.
Each GTR application is different. Each customer has a different use in mind. At Kaizen Tuning, we can recommend the products that are going to work right for you. From street driven daily drivers to track prepped cars, the choices are very different. You will not find that flexibility in a dealership. This is critical to you, as an owner, as we can recommend and work with a huge array of products from all over the world, to fit your application.
6.
The right tools.
Kaizen Tuning uses the right tools for getting the job done right. What this means to you as a customer is that we do not need to outsource your car. We can do GTR alignments in house, dyno tune in house, do motor and trans builds in house... We have the tools to tackle any job in our shop.
7.
Custom Fabrication.
Cant find an item that fits your needs on the market? Kaizen Tuning has the capability to produce it, in our fab shop for you. Our fully outfitted shop can produce custom exhausts, headers, intakes, FMIC's, piping, and brackets. If you can dream it up, and put it on paper we can make it.
In addition to these 6 points, it should also be brought up that we offer a host of aftermarket products and services that the dealership or local 3rd party shop cant.
Dyno Tuning
- Dyno tuning with Cobb to get the most out of your modifications.
Suspention Tuning
- Custom alignment specifications and corner balancing.
Aftermarket Parts
- A huge array of aftermarket products, from the best JDM and US brands. AMS, Amuse, Whiteline, HKS, Greddy, AQ Motorsports, Forge, Cobb, CBRD... To name just a few of our partners.
Track inspection services.
And much much more....
HKS Pro Dealer - 1 of 5 in the USA trusted to sell and tune the highest end HKS products.
AMS Master distributor and Alpha installer - Trusted by AMS to install and tune AMS Alpha products.
So there we have it, 6 big points on what makes Kaizen Tuning a better choice to work on your Nissan GTR, than the dealership or any shop in New England. This should also work for those of you that are in other areas of the country that are trying to decide on if you want to send your car to a local dealership, or a high end aftermarket shop like Forged Performance, SPE or AMS.
Any questions, dont hesitate to ask, we are looking forward to servicing you needs.
Kaizen Tuning LLC
875 Mass Ave
Boxborough, MA
01719
Phone - 978 266 9900
Email - [email protected]
www.kaizentuning.com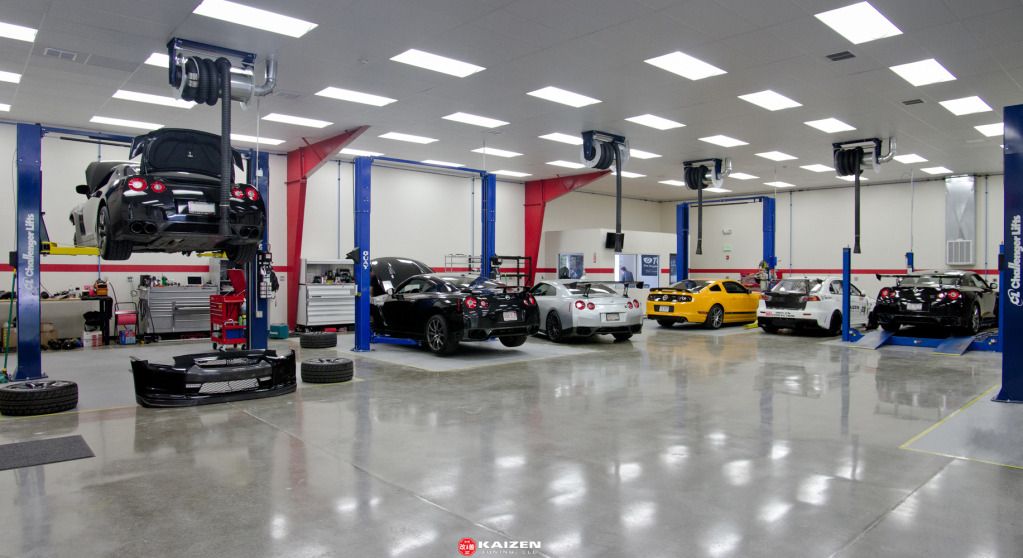 State of the art workshop at Kaizen Tuning, with in-house GR6 rebuilding, VR38 motor building, alignment and corner balancing, and fabrication services.
Show Room with R35 parts in stock. In addition we have plenty of high end detailing supplies, GoPro Hero's, and performance driving accessories for you to check out.